African startups are on pace to set new records in 2019—just like they did last year. In 2018, African startups raised a historic $725 million. So far this year, top startups have already secured $699 million, according to data provided by GreenTec Capital Partners' Maxime Bayen, who tracks African venture capital deals of over $1 million.
Quartz's latest presentation breaks down how African founders and their investors are building a network of startups that spans industries and the continent. The presentation also introduces six startups worth knowing.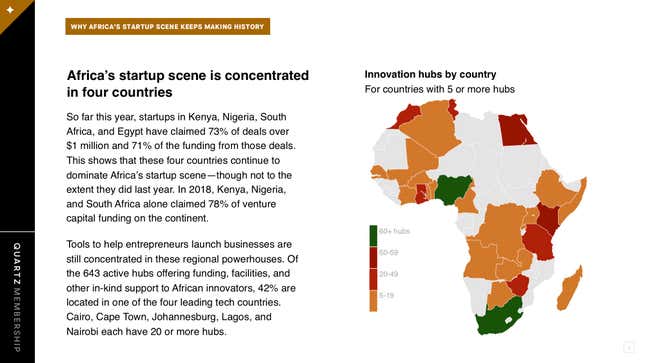 Institutional support for innovators is growing, and not just in the countries that have traditionally dominated African entrepreneurship. French-speaking countries—which have long lagged their anglophone neighbors in raising capital—are gaining ground thanks to renewed investment by Francophone governments and a growing network of local angel investors.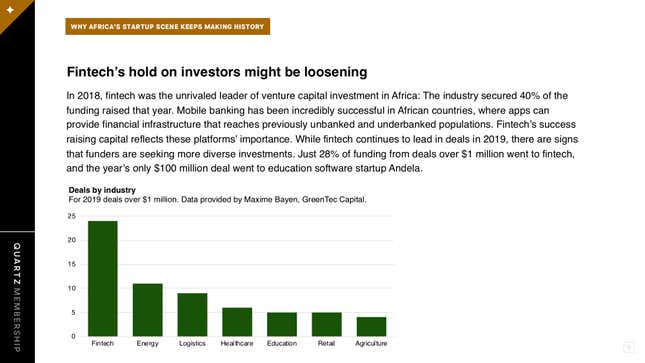 Africa's fintech ecosystem grew 60% in the past two years, and successful mobile banking platforms were among the first to attract increased investment in the continent's startups. Now investors are diversifying their portfolios, with major deals this year going to startups in energy, logistics, and healthcare.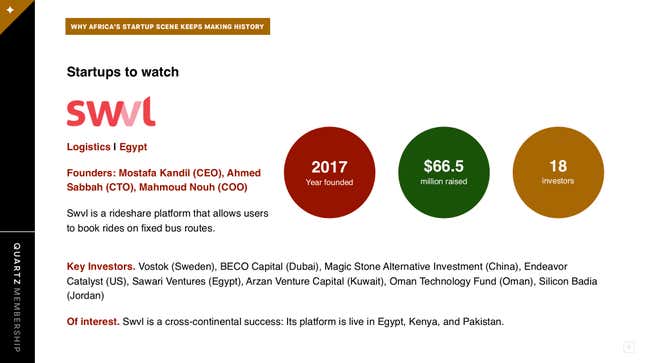 Egypt's Swvl is a standout example of how quickly African startups are growing. Swvl started its bus rideshare platform in 2017 as an alternative to driving in Cairo and Alexandria's gridlocked streets. It has since launched in Kenya and Pakistan and raised $42 million this year to fund further expansion.
To see all of the slides, you can view the PDF version or download the PowerPoint file, which includes our sources and notes. This is one of an ongoing series of member-exclusive presentations, which you can read, reformat, and use as you wish.
Please share any feedback about what would make these presentations more useful—or topics you'd like to see us cover—by emailing us at members@qz.com. These presentations are an exclusive benefit for Quartz members. We'd love it if you'd encourage any friends or colleagues who express interest to become a member so they can access them too.