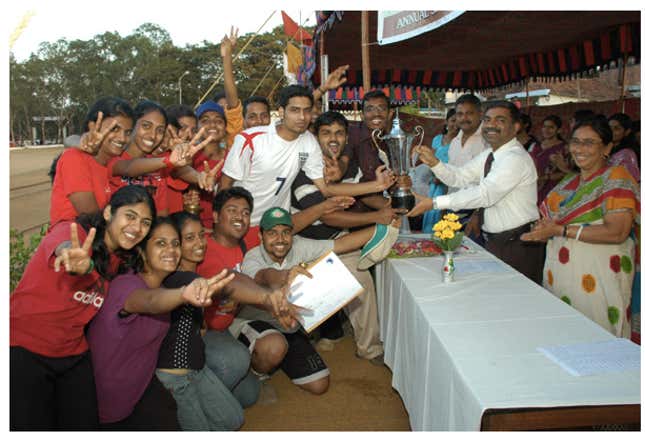 Few institutions could be as pleased with Microsoft's recent appointment of new CEO Satya Nadella as the Manipal Institute of Technology.
"Over the last three months, when his name was shortlisted for the job, we have been hoping and praying that Satya would get the job," chancellor Ramdas M. Pai said in a statement distributed by the south Indian school, where Nadella got a bachelors in engineering in 1988. "Every single student, past and present, will cherish this glorious moment," Pai said.
The school was the site of "day long celebrations" after his appointment was announced, DNA newspaper reported. "Students of electronics and communication courses, who adore Nadella, rode their bikes through the town spreading the news, distributing sweets and bursting firecrackers."
Manipal Engineering College was founded in 1957 and renamed Manipal Institute of Technology after its founder visited the Massachusetts school in the 1970s and dreamed of a similar school in India, the Indian institution's joint director told the Wall Street Journal.
Nadella's former teachers remembered an inquisitive student. "He would not meekly go and do experiments," a professor of digital electronics told the Journal. "He would cross-question and try to understand why something is that way." He went on to get a masters from the University of Wisconsin and an MBA from the University of Chicago.
The education is certainly a bargain compared with its US namesake. Manipal's freshman year tuition is 359,500 rupees, or $5,755, while one year at MIT costs $43,210, or $37,000 more. Living costs in Karnataka state are low too—5,000 to 6,000 rupees a month (less than $100) "should be sufficient allowance" for a student, according to one guide.