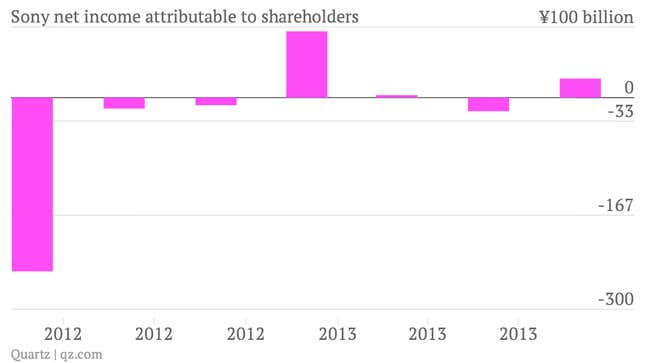 The numbers: Bad. The Japanese electronics maker said it expects a net loss of ¥110 billion (pdf), or $1.08 billion, instead of its earlier forecast of ¥30 billion in profit for the full year through March, mostly because of restructuring costs.
The takeaway: Sony, once the king of consumer electronics, is now a fraction of the size of rivals like Apple and Samsung. The firm has been struggling to turn around its flailing personal computer and television businesses. The company announced on Feb. 6 that it will be selling its Vaio PC unit and re-structuring its television division. About 5,000 jobs will be cut.
What's interesting: At least some things are improving. Third quarter earnings were ¥27 billion, a comeback from a loss of ¥10.8 billion in the same quarter a year earlier. Better earnings this quarter were mostly because of strong sales of Sony's Playstation 4 console, as well as a weaker yen. Still, as we noted before, stellar PS4 sales alone won't be enough to help Sony turn around.