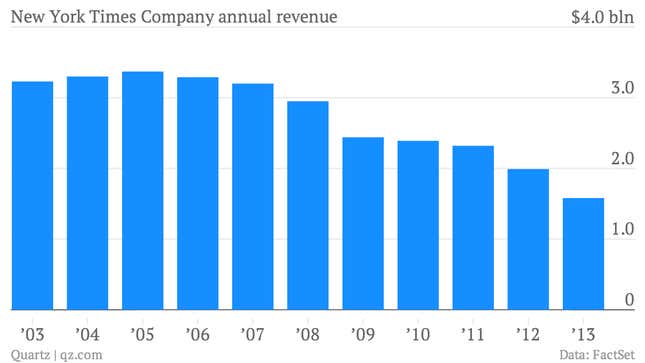 The numbers:  The New York Times Company reported another difficult set of numbers this morning. Revenue in 2013 fell 1.1% to $1.58 billon. Ad sales fell 6.3% in the fourth quarter, but the company said they were only down about 1% on a like-for-like basis (that is, excluding the impact of the sale of certain businesses, such as the Boston Globe, and the impact of having one less week in 2013). The company said it was the best quarter for advertising in three years.
The takeaway: The company also revealed that it now has 760,000 digital subscribers, up 19% from a year ago. Revenue from digital-only packages, e-readers and replica editions reached $149.1 million. That's up 33.5% from a year ago.  But it's still less than 10% of its overall top line.
What's interesting: On a brighter note, circulation revenues rose by 3.7% to $824 million in 2013, with a decline in print copies sold offset by digital subscription initiatives and a hike to prices for print home deliveries. The company is expecting another low-single-digit increase in circulation revenues in the first quarter of 2014.