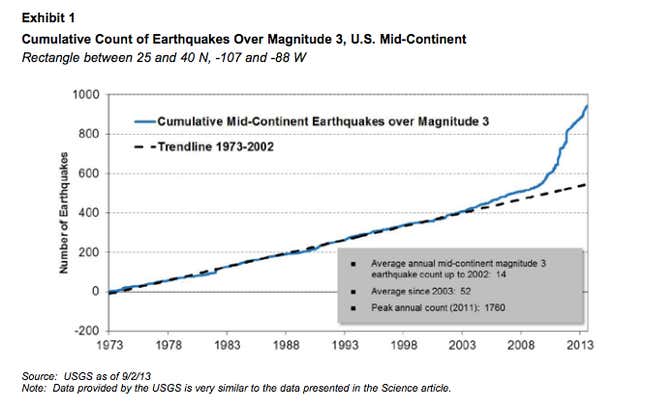 "To me at least the connection is clear and statistically certain… far more certain than anything I ever see in the stock market or the economy."
That's Jeremy Grantham, the highly-regarded co-founder of the $117 billion investment fund GMO, who predicted both the dot com crash of the late 1990s and the subprime meltdown a few years later. Above is an accompanying chart included in his latest investment letter.
Rather than pushing an investment idea here, he's convinced there's a causal link between a surge in earthquakes measuring above 3 on the richter scale in the US and the boom in hydraulic fracturing ("fracking"), the controversial drilling technique used to extract oil and gas from shale rock.
His overall skepticism about fracking informs Grantham's broader, bearish thesis about oil prices. In the investment letter he questions whether "this year's $650 billion spent looking for new oil will ever get a decent return."  He argues that slowing global economic growth, more fuel efficient vehicles, hybrids and electric cars mean that "it is certain that oil demand from developed countries will decline, probably faster than expected."
A few more choice words from Grantham: "The idea of 'peak oil demand' as opposed to peak oil supply has gone, in my opinion, from being a joke to an idea worth beginning to think about in a single year. Some changes seem to be always around the corner and then at long last they move faster than you expected and you are caught flat-footed."