Manchester United is struggling on the football pitch and on the stock market.
Shares in the world's fourth richest soccer team have dropped 11% since the end of August, when the football season began. That's a notable underperformance compared to say the US benchmark S&P 500—Manchester United is listed in New York—which is up by about 10% over the same period. While not strictly comparable because of currency differences, other indices such as Britain's FTSE 100 and even the Stoxx Football index are also faring better than Manchester United. (The stock has has gained 7% since its IPO in mid-2012, but the S&P 500 has gained 27% since then.)
The market has mimicked the mood on the field. The reigning Premier League champions—who have won more trophies than any other side in the history of English soccer—are 15 points (or five wins) behind league leaders Arsenal, after their worst start to a season for 30 years.
The slide in performance comes after it long-serving manager, Scotland-born Sir Alex Ferguson, retired at the end of the 2012-2013 season. He was replaced by David Moyes, another Scotsman who previously managed Everton FC, based in Liverpool.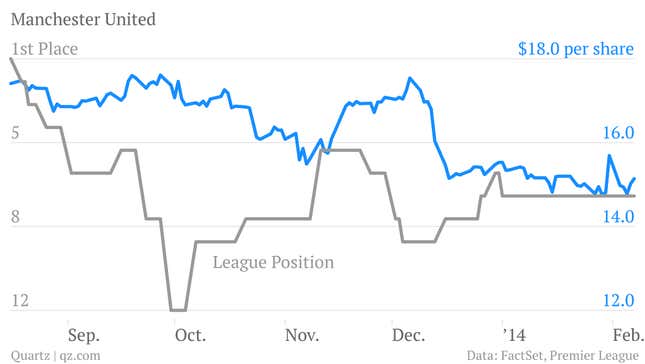 As the above chart shows, Manchester United's share price and its position on the Premier League table have fallen (roughly) in tandem this season. Understandably so. Not only does poor performance threaten revenue from ticket and merchandise sales, it also risks upping costs as management spends on new players to try and arrest the slide. 
That happened last month when the club spent a record £37.1 million ($61 million) to buy star Spanish midfielder Juan Mata from rival Chelsea. The purchase prompted Deutsche Bank to lift its forecasts for the club's operating costs, which it now expects to increase by an average of 11% over the next three fiscal years (it no longer recommends clients buy the stock).
And another thing: The club currently sits seventh in the EPL standings. The top four clubs at the end of each season qualify for next year's Champions League, the lucrative tournament featuring Europe's richest clubs. Manchester United has qualified every season since 1995-1996. Missing out next year could cost up to £15 million, Deutsche Bank says. And each place finished in the EPL below third place could cost Manchester United an additional £1.25 million, according to the bank's analysis.