Darden Restaurants, the owner of the Red Lobster and Olive Garden chains, can't catch a break at the moment.  Two activist investment funds are pressuring the company to restructure itself, and its share price has sunk 11% so far this year. Add to this a bacterial disease that has ravaged shrimp production globally, driving up prices of the crustaceans and increasing costs for the company.
Arguably, the biggest of the myriad problems facing the company is weak performance at Red Lobster, where sales have been falling at an alarming rate (same store sales fell 4.5% last quarter, double the fall analysts had expected).
As one of the investment funds pressuring the company,  Starboard Value, said in a letter today: "Severe shrimp price inflation, driven by a blight that is currently affecting Asian shrimp supplies" has been one of the main factors hurting performance at the chain, and by extension, the parent company.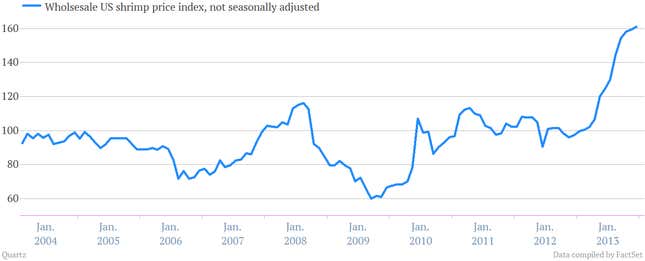 For a chain that bills itself as an affordable place to eat seafood, high shrimp prices have been fairly disastrous. "Red Lobster has almost (been) forgotten as a place to eat by US families as they perceive the brand as not offering the most value," Brian Sozzi, chief executive of Belus Capital Advisors told Reuters back in December.
The shrimp inflation stems from a early mortality syndrome (EMS), a bacterial disease affecting production in the three biggest shrimp-producing countries—Thailand, Vietnam and China.  This, in turn, has led to a sharp contraction in shrimp supply, which has driven up prices. In percentage terms, shrimp price increases were in the "high teens"  last quarter, the company said.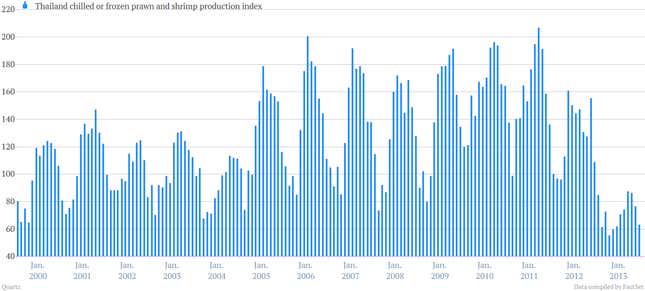 Analysts at Rabobank said in August that countries unaffected by the disease, including Ecuador, India and Indonesia, could increase shrimp production to fill the void. But Darden isn't expecting severe shrimp price inflation to abate until 2015.
The company will need to placate its disgruntled shareholders long before then.  As we reported back in December, Barington Capital wants Darden to completely reorganize itself by spinning its vast array of real estate assets into a new entity, and by separating its older chains, including Red Lobster and Olive Garden, from its newer chains, including The Capital Grille and LongHorn steakhouses. Starboard, which emerged with a stake in the company soon after, is pressing for similar changes.
Darden is resisting, and  has thus far only agreed to spin off Red Lobster into a new vehicle. Starboard today described that proposal as "hurried," "hasty," and "lacking any substance." Rather than boosting returns for shareholders, it could actually be "value destructive," the fund said.
Destructive or not, everyone concerned will be hoping that it won't lead to an early mortality for the restaurant chain itself.