2013 was a difficult year for America's teen retail industry. But things are already looking up in 2014, and if a rare shift in fashion trends takes hold, retailers could enjoy the bonanza from millions of people overhauling their wardrobes simultaneously.
At least, that's the view of the noted fashion mavens at, er, Goldman Sachs, who believe this could be the year that women's pants with high waistlines go mainstream among the discerning youth of the US.
The pants, which shorten the torso and "amplify the bottom," Goldman says, are already the norm in Europe, where trends typically run ahead of the US. They are becoming more prevalent in pop culture, being worn by the likes of Taylor Swift, Miley Cyrus and the cast members of HBO's iconoclastic series, Girls.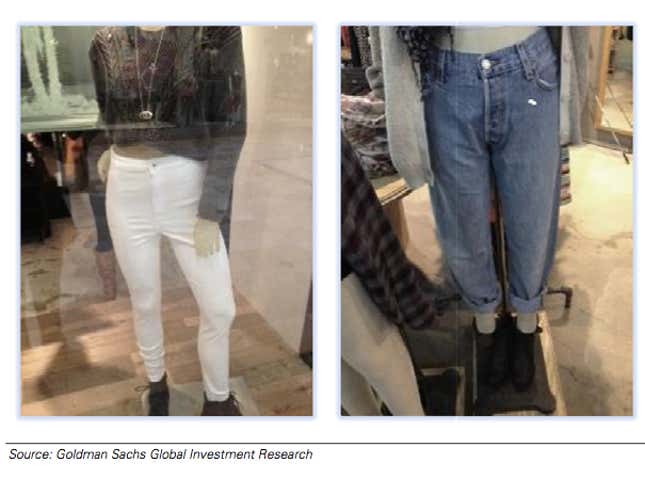 The last "macro shift" in fashion, according to Goldman, was the advent of skinny jeans in the middle of the last decade. The bank's analysts say this led to widely disparate performance among retailers, depending upon whether they were able to capitalize upon it or not.
Such shifts are rare, and different from micro shifts—such as the advent of colored pants, which could be combined with clothing from seasons past. As Goldman explains:
"Macro shifts, in contrast, are further reaching, much longer in duration, and serve as catalysts for complete wardrobe turnover. They are slower to take hold, since they create an entirely new shape on the human form and at first look odd or off balance. However, once in motion, macro shifts can catalyze a powerful product cycle that creates both opportunity and risk."
In simpler words, they are huge sales opportunities. Urban Outfitters embraced skinny jeans before the rest of its peers in 2005. That initially hurt its sales and margins, but the chain benefitted from being seen as the "go-to" destination for the trend, and its sales, margins and profits recovered dramatically in subsequent years.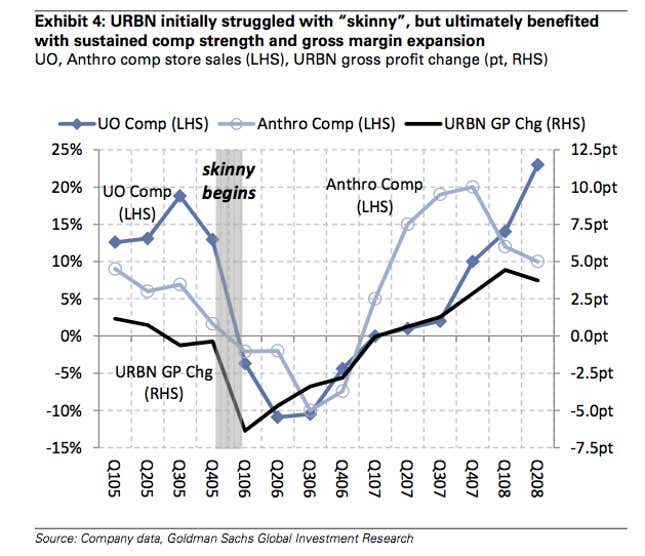 Goldman thinks Urban Outfitters can do the same with high-waisted pants. It wasn't that long ago that the investment bank was downbeat about the retailer's prospects, after seeing this garish denim and tutu combination at one of its Long Island chains. Fortunately for Urban Outfitters, a bank analyst's whims are apparently even more fickle than a fashion editor's.