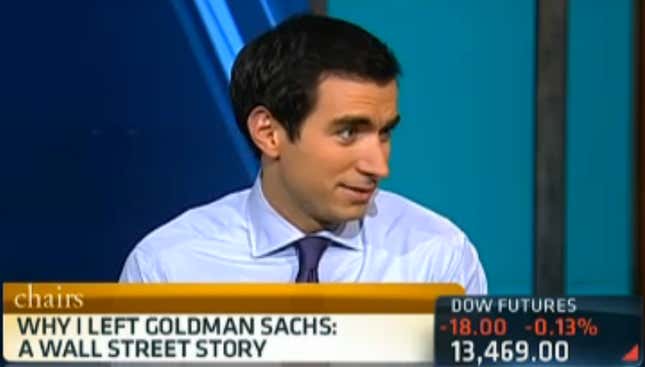 On CNBC's Squawk Box this morning, Andrew Ross Sorkin panned the forthcoming book by Greg Smith, who famously quit his job at Goldman Sachs in an op-ed in The New York Times, where Sorkin is a columnist and editor. "It doesn't say anything particularly revelatory about anything," Sorkin said.
Sorkin even bashed the Times for running the original piece. "I feel in a way that he might have conned The New York Times a little bit for running the op-ed," said Sorkin, who received an advance copy of the book and stayed up last night reading it. "He might have conned 60 Minutes. He might have conned everyone else."
Smith's book is due out Monday, and he's appearing on 60 Minutes this weekend. He accuses Goldman of having a toxic culture that rips off customers. Perhaps the most damning revelation to emerge from the book is that Goldman bet against its clients' trades on European banks. Other details from the book, like the fact that Goldman CEO Lloyd Blankfein walks around naked at the gym, seem a little less explosive.