With nearly $100 billion in capital, SoftBank's Vision Fund is the world's largest tech investing fund. But in recent months, bigger has not proven to be better, and a series of scandals and shortcomings have left SoftBank founder and CEO Masayoshi Son "embarrassed and flustered," according to his interview with Nikkei Asian Review.
Quartz's latest presentation takes a close look at the Vision Fund's massive scale, unicorn-packed portfolio, and recent challenges—from WeWork's failed IPO to SoftBank's struggle to attract investors for a second Vision Fund.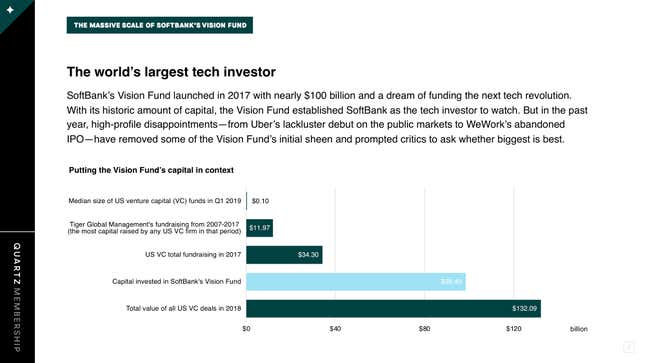 It is difficult to overstate the Vision Fund's massive scale. With $98.4 billion committed from SoftBank and outside investors, the Vision Fund is nearly ten times larger than the median US venture capital fund (pdf).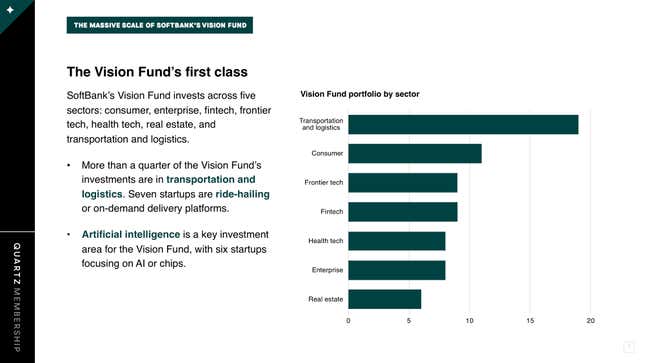 Of the startups in the Vision Fund's initial portfolio, at least 45% are valued at $1 billion or more, according to data from Pitchbook. Seven are ride-hailing startups, including decacorns Uber and DiDi Chuxing. The fund's portfolio also shows heavy investment in artificial intelligence.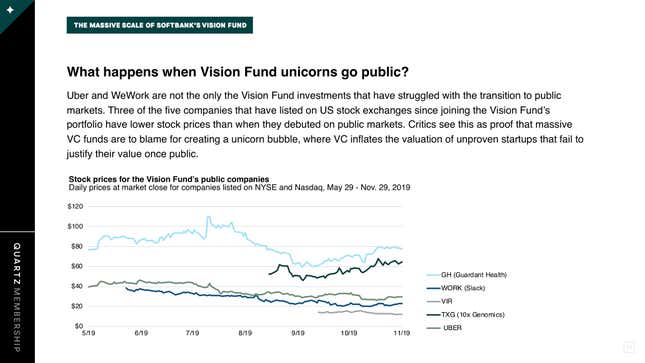 It is not clear that SoftBank's massive investments are paying off once its highly-valued unicorns transition to the public market. As of this writing, Uber, Slack, and Vir Biotechnology have all seen their stock prices fall since going public.
To see all of the slides, you can view the PDF version or download the PowerPoint file, which includes our sources and notes. This is one of an ongoing series of member-exclusive presentations, which you can read, reformat, and use as you wish.
Please share any feedback about what would make these presentations more useful—or topics you'd like to see us cover—by emailing us at members@qz.com. These presentations are an exclusive benefit for Quartz members. We'd love it if you'd encourage any friends or colleagues who express interest to become a member so they can access them too.