By Michael Fredericks, Portfolio Manager of the BlackRock Multi-Asset Income Fund
It's not a new challenge, but it's a challenge nonetheless: How can you generate income from your investments when yields are close to record lows? Money in the bank offers minuscule (if any) returns. And yields on traditional income sources, such as U.S. Treasury bonds, are barely keeping pace with inflation. This means falling back on what might have worked in the past could be a recipe for disaster.
Fortunately, you have options. Conventional wisdom would suggest that when yields are low, it's time to stretch into riskier asset classes to target higher income streams. But chasing income by seeking out the highest-yielding investments you can find isn't necessarily a winning strategy either. That approach can mean taking on more risk than you can stomach.
That's why we suggest a third approach to finding income: One that seeks out opportunities across the income spectrum; one that is flexible and nimble enough to move among investments as market conditions evolve in real time; and one that is designed to balance income generation with risk management.
The approach we prefer looks across income-oriented equity and bond investments (such as dividend-paying stocks, government bonds, and high yield bonds), but it doesn't stop there. It also taps alternative income sources, such as preferred stock, real estate investment trusts, and bank loans. As the accompanying chart shows, often these alternative income sources can offer compelling yields with the potential to build wealth and outpace inflation while also providing the income you need.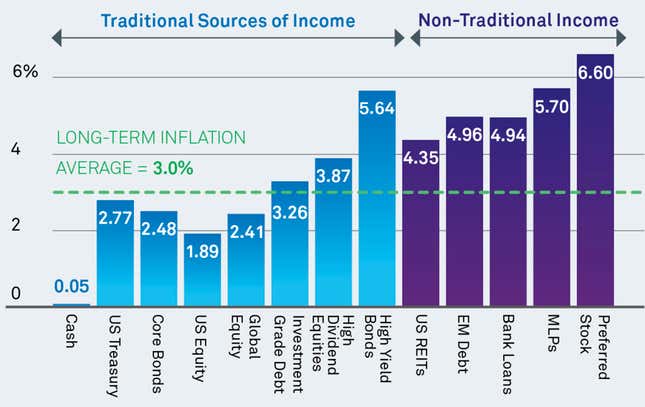 Perhaps even more important than identifying broad sources of income, is developing a strategy for bringing them all together. This requires the know-how to value and assess different income sources, determine when higher yields are worth higher risk and then understand how to use this information to build a comprehensive income-generating portfolio. You could attempt this on your own, building a portfolio of different investments that targets all of these goals. But a better option, in our view, is to find a single investment vehicle that does all this work for you. We would suggest looking at an all-in-one income portfolio that nimbly seeks out income from around the world and that can evolve along with the markets.
Today's world is a tough place for investors seeking income in the usual places. But rest assured that reliable, real, and rising income is available for the taking for those who know where to look and how to execute.
To learn more about how BlackRock can help you find the income you need visit BlackRock.com/income.
This article was produced by BlackRock and was not written by the Quartz editorial staff.
You should consider the investment objectives, risks, charges and expenses of any BlackRock mutual fund carefully before investing. The fund's prospectus and, if available, summary prospectus contain this and other information about the fund and are available, along with information about other BlackRock funds, by calling 800-882-0052 or from your financial professional. The prospectus and, if available, summary prospectus should be read carefully before investing.
Find complete legal disclosure here.