Update, 11/11/2014: NASA announced today that it had approved Google's plans to lease Moffett Airfield for 60 years, in exchange for $1.16 billion in rent, $200 million in capital investment and responsibility for maintenance.
Planetary Ventures, a Google shell company, will lease an airport—and an enormous hangar—from the United States space agency NASA.
Just miles from Google's headquarters, Hangar One in Moffett Field has a floor plan of about eight acres (3.2 hectares), and when it was built in 1933 it was one the largest freestanding structures in the world. Why? To hold an airship called the USS Macon:
But the USS Macon crashed into the Pacific Ocean just two years later, and since then the huge building has housed various minor military operations and NASA projects. It has mostly served as a Silicon Valley landmark, one made all the more dramatic in 2011, when the discovery of toxic waste in the walls forced NASA to strip the building down to its steel skeleton, Terminator-style: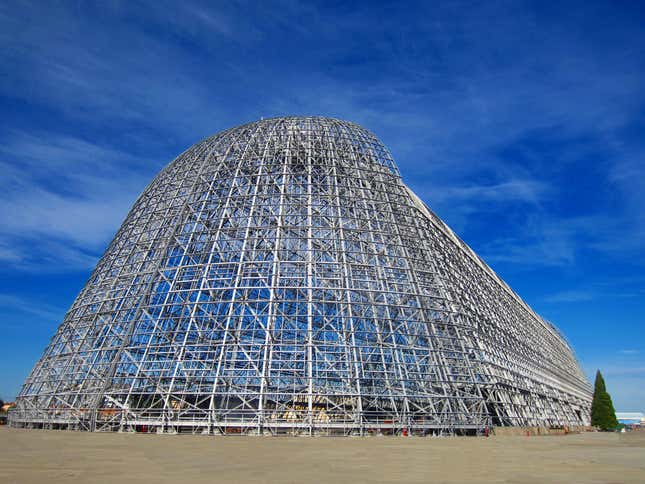 That's fitting, since Google's proposal includes plans for research and development on robotics and rovers, as well as space and aeronautic projects. The search giant has been acquiring robotics firms at a rapid pace in the past year, including Boston Dynamics, which makes this guy:
NASA is leasing Hangar One (as well as two nearby runways, two smaller hangars, and some other buildings) to the search company as part of a cost-cutting measure. It can't afford to restore the historic buildings, but Planetary Ventures will finance reconstruction as well as the creation of a public space for a museum or educational effort on the base—and they'll upgrade the golf course while they're at it.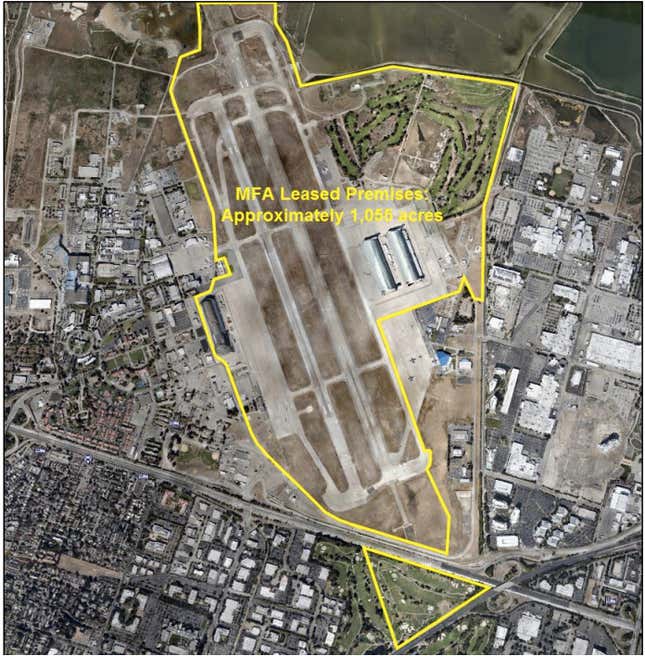 It may be fitting that a third generation of high tech research will occupy Hangar One, with Google's various futuristic projects replacing the blimps of the thirties and NASA in the sixties and seventies. But the cozy relationship between NASA and Google has caused trouble before.
A shell company owned by the company's founders and chairman, H211 LCC, which operates the company's private jet fleet, has been leasing tarmac space at the airfield since 2007. The jets there—including a Boeing 767, 757 and four Gulfstream V jets—bought fuel at government discount prices in exchange for providing free research flights to NASA. When the Wall Street Journal revealed that comparatively few of the flights were for NASA purposes, the arrangement was ended, and the private jet fleet is headed for an airport in San Jose.
Before Planetary Ventures sealed the deal, H211 had offered to purchase the hangar, but its proposal was rejected. Bottom line: Who can stop Google from getting what it wants?