Spare a thought for John Malone this morning. The billionaire's dream of consolidation in the American cable industry is finally happening—just without his involvement.
The owner of the Atlanta Braves baseball franchise, Sirius XM satellite radio network, and a vast array of European media assets has been publicly and privately agitating for consolidation in the unusually fragmented US cable industry (see below) for the past year.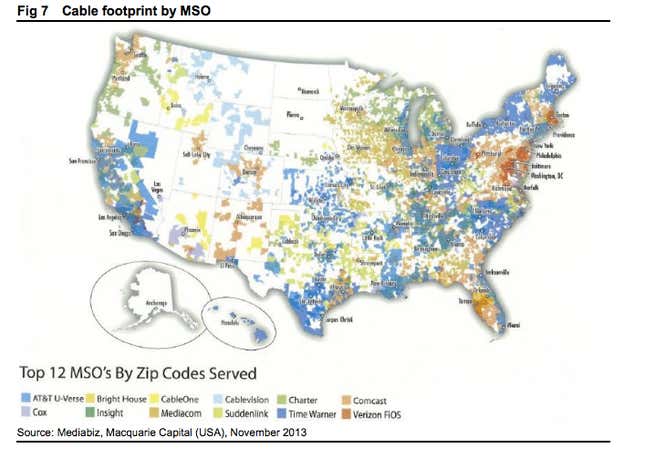 Given his track record, Malone was seen as the man most likely to orchestrate a deal. Yet the horse he backed, Charter Communications—Liberty Media, Malone's US investment vehicle, built a 27% stake in Charter last year—has now been left out in the cold.
It was always an audacious move for Charter, the industry's fourth biggest player, to attempt to buy the much bigger Time Warner Cable. However, Charter was still widely seen as being in the driver's seat right up until the news that industry leader Comcast had outmuscled it.
But consolidation tends to snowball, and if so, Malone will likely be involved. Smaller cable operators such as Cox Communications or Suddenlink could now be in play.
And the true impact of the Comcast-Time Warner Cable tie-up could actually be felt beyond the cable industry. Even though they don't compete directly, their merger will need approval from multiple regulators in Washington. Approval might make it easier for potential dance partners in adjacent industries like satellite—and, who knows, telecom—to get their own deals approved.
"This definitely revitalizes and paves the way the potential for a Dish-DirecTV deal," Macquarie Equities analyst Amy Yong tells Quartz. "They can now argue to the regulators that Comcast-Time Warner are bigger and enabling them to merge will help increase their competitive position."