With headlines everywhere focusing on disposable plastics and air travel emissions, it's clear that our individual, everyday purchasing choices—from what we eat to how we get around—impact the world around us. But how about what we wear?
According to the UN Alliance for Sustainable Fashion, apparel manufacturing produces 20% of the world's water waste and up to 10% of its carbon output and sends more than 21 billion tons of textiles to landfills each year. But it's also a $2.4 trillion dollar industry that employs more than 60 million people worldwide. Considering this scale and impact, the industry is at a crossroads, devising disruptive technologies, rethinking business models, and searching for innovation at every step — design, production, distribution, and reuse.
Enter Synflux—a Tokyo-based team of young creatives with backgrounds bridging engineering and fashion design. Utilizing emerging tools like AI and 3D printing and inspired by Japanese culture, past and future, they are rethinking the entire garment ecosystem.
Taking inspiration from a treasured Japanese tradition
"It's all about on-demand, customization, and sustainability," says Kye Shimizu, one of the brand's four founders. "A new way to consume is on the rise." It's fitting then that Shimizu met his partners at the former Keio University lab of Daijiro Mizuno, a professor specializing in speculative design—a field that encourages experimentation in an imagined future. 
Enrolled in the X Design program at Keio University, Shimizu, alongside Kazuya Kawasaki, Yusuke Fujihira, and Kotaro Sano, took Mizuno's R&D lessons to heart and began harnessing both the power of new industrial technologies and the delicate art of dressmaking.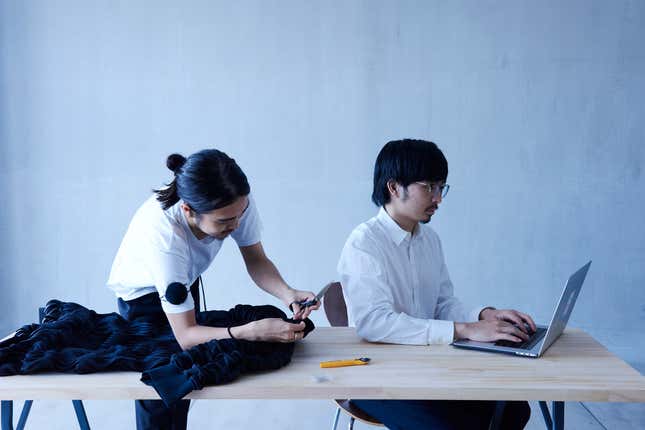 "We're combining traditional and digital culture," says Sano, the quartet's lead fashion designer. Citing that 20% of fabric is discarded through conventional, curved pattern-making techniques, he says that the latest fashion line is instead built upon traditional Japanese kimonos, which use straight-cut patterns. 
With centuries of history and tradition behind it, the original kimono was designed to fit every type of body and help signify the wearer's unique cultural identity. Could a millennium-old robe meet our modern fashion needs: body-positive, bespoke, and eco-conscious?
"Many of our underlying concepts are rooted in how the kimono is created," says Shimizu. "Our generation has a responsibility to remember culture but also update it."
Using AI to reinvent couture
With this shared philosophy, the group was ready to bring their classroom learnings onto the catwalk. In 2018, the team's first project was a raw-edged Spandex dress. On its own, it was but a zero-waste puzzle of rectangles and trapezoids. But they then fused a 3D-printed skeleton onto the stretchy fabric to create figure-hugging pleats from collar to cuff to hem.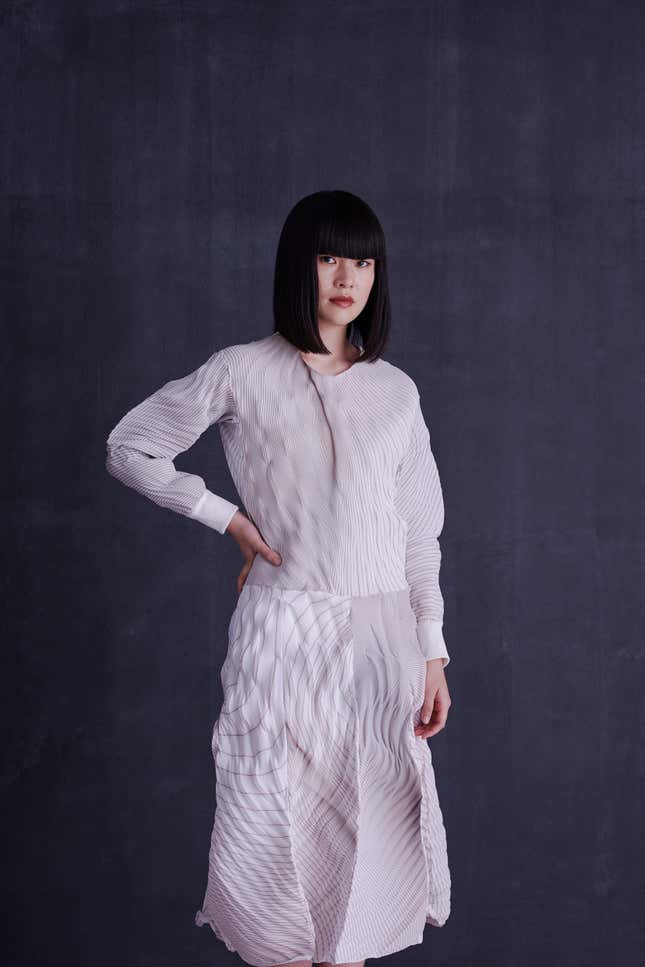 For their follow-up, the team used bio-engineered leather laser-cut with AI technology. First, a wearer was 3D-scanned so that the company's proprietary algorithm could deduce the optimum pattern to fit the body. Composed solely of rectangles and triangles, the fabric panels cut for one dress fit directly alongside those for the next. It's a design system the creators liken to the video game Tetris. 
"The entire straight-cut pattern can auto-recalibrate to body data," explains Shimizu. "It's the merging of the designer, his software, and the machine." 
Detailed in the demo video provided by Synflux above, the output is a series of astonishingly fluid dresses made with only three percent fabric loss. 
The team calls these explorations Algorithmic Couture, and the ideas that drive them have already gotten noticed, including by the H&M Foundation's prestigious Global Change Award. But that is just the first step in their vision.
The longer-term aim of the four founders is to allow other designers to implement customization and automated patterning without having to compromise their craft, culture, and expertise. Looking to new business models like Nike By You for inspiration, Shimizu says, "One of the strengths of software is allowing universality … so we are talking to both local and overseas investors to move forward."
"This summer we will release a beta version of our software for smaller brands," says Shimizu. "But one day we want to do this at a global level."
As another step toward that mission, Synflux garments are currently on display at the "Making Fashion Sense" exhibit within Basel, Switzerland's House of Electronic Arts; they hang alongside pieces by such internationally recognized talents as Hussein Chalayan and Iris van Herpen. The exhibit is in collaboration with fellow Japanese brand Hatra, with whom Synflux hopes to continue joint research in the future. 
Applying interdisciplinary collaboration towards a sustainable future
Sustainable fashion practices are not only valuable in their ecological implications, they also have the ability to increase profits. A 2019 McKinsey study reveals that 57% of millennial and Gen Z consumers report that they are willing to pay more for products that have the least negative impact on the environment. Synflux's focus on sustainability could not only decrease costs lost in wasted textiles and standard-sized samples, but their direct-to-market approach has the potential to win over new consumers while also reducing expensive inventory needs. 
By 2025, Shimizu dreams of a company factory equipped with its own robots, while his colleague Sano hopes their customization platform is live, complete with options for buyers to choose their preferred material, color, and pattern. Kawasaki wants to continue their research even as they start to scale their breadth of work.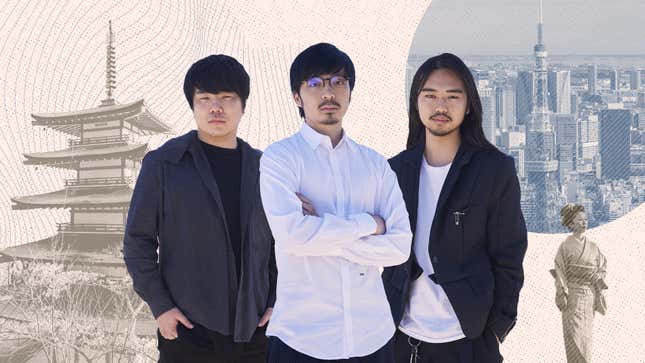 "One thing we have in common is an innate fascination towards a different future," says Shimizu. His colleague Sano cites influences like sci-fi films Blade Runner and Ghost in the Shell—imaginative works of art that tackle societal issues and grapple with what it means to be human. 
"Many of these characters are connected to computers through their bodies, making them more than mere containers," explains Sano. "The technology that augmented what they were able to do changed them and the fabric of their society."
"We hope fashion plays a more important role with our everyday lives and augments the capabilities we have as human beings in a similar sense."
What's for certain is that Synflux's foundations are strong. Having grown up and out of Japan's design and technology ecosystem and its culture of innovation, beauty, and utility, the quartet is set to change how garments are conceived, fabricated, and distributed across the globe. Taking inspiration from their nation's esteemed clothing form, they are reinventing what "Made in Japan" can mean now.
This article was produced by Quartz Creative on behalf of the Government of Japan and not by the Quartz editorial staff. Sources are provided for informational and reference purposes only.