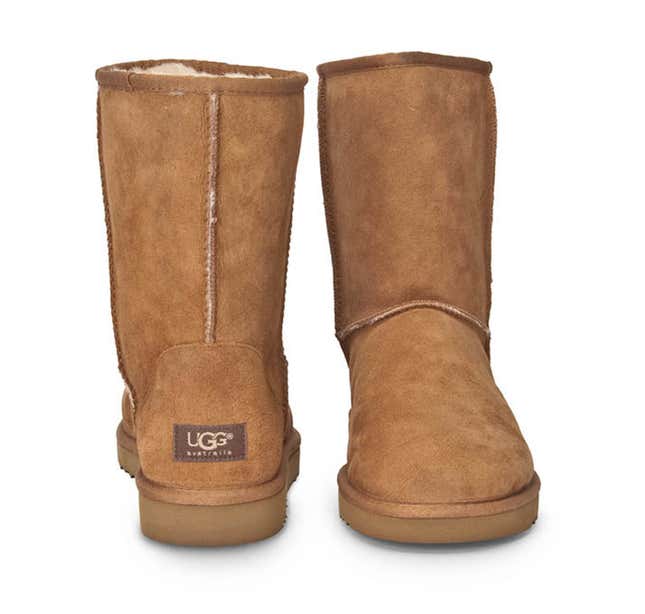 One beneficiary of what, in some parts of America, has been one of the coldest winters on record, might be Decker's Outdoor.
This week, analysts at Nomura said they think the company, which owns the UGG Australia label of sheepskin boots, is well positioned to benefit from "very favorable winter weather conditions this year." The stock has nearly doubled over the past 12 months.
Decker's bought UGG Australia in 1995. As recently as 2003, the brand accounted for less than a third of the company's sales, while the Teva label of flip-flops and hiking shoes accounted for about 60% of the company's top line. As the below chart shows, UGG sales have surged ahead in the ensuing decade, though they declined in 2012 due to an unusually warm winter.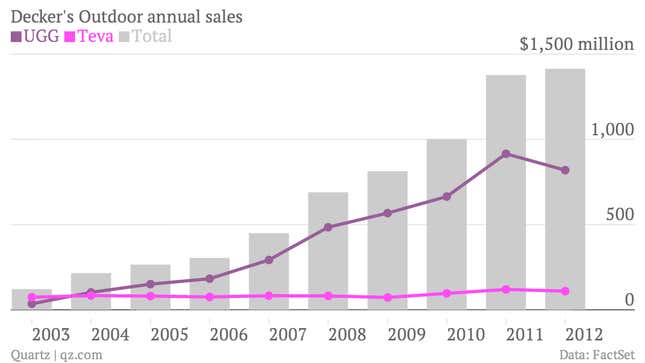 There is a fascinating story behind the rise of the "ugg" boot, which for years were objects of near national derision in Australia, a form of footwear people would never wear outside of their own homes.
According to folklore, the boots were initially worn by sheep shearers in Australia—for many years, the world's largest exporter of wool—and later adopted by surfers in the country, to keep the feet warm after a winter wave. From there, their popularity spread from surfing communities in southern California to the slopes of Colorado. These days, the boots are actually made in China, out of Australian wool, though Decker's has also developed its own proprietary wool substitute, known as UGG Pure, which hedges it against wool price volatility.
The UGG label shot to prominence after heavy promotion by Decker's around the turn of the millennium, when they became a fashion item adorned by some high-profile celebrities. But Decker's has also been embroiled in a string of unseemly trademark disputes with smaller Australian producers about whether "ugg" is a generic term or not. The Wall Street Journal Magazine (paywall) published a good rundown of them here.