South Korean women in rural areas are moving to cities in search of work, leaving rural bachelors with no choice but to seek impoverished brides from Vietnam and China, which creates unhappy marriages that often end in divorce—at least that's the widely-held narrative behind South Korea's new restrictions on mail-order marriages.
The crackdown on mail-order brides (these days, "e-mail" or "internet brokered" would be more accurate) will require resident-by-marriage visa applicants to pass a Korean language test and prove they made at least 14.8 million won ($13,750) in income in the past year. The new rules are intended to "normalize the abnormal interracial marriages in which men and women who cannot even have a conversation tie the knot," the South Korean Justice Ministry said.
That narrative is wrong, at several points.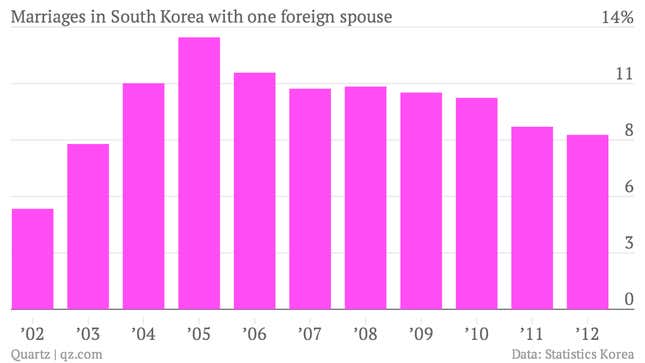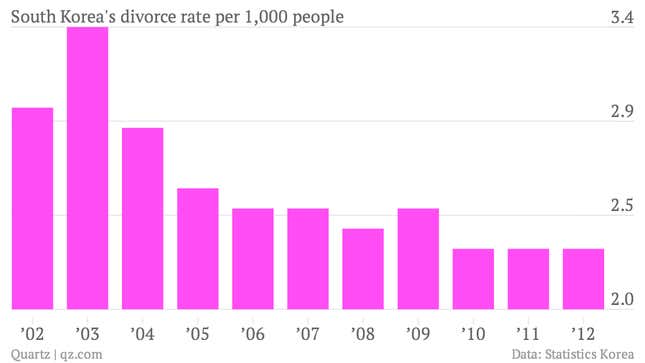 Despite domestic and international press accounts that have hyped the mail-order bride trend, the number of South Korean marriages where one spouse is a foreigner have declined sharply in recent years after spiking in the early part of the decade. Not only that, but the country's divorce rate—among the highest in the world a decade ago—has also been declining. The number of divorces involving a foreign-born spouse fell 5.3% to 10,900 in 2012, according to the government-run Statistics Korea, making up less than one in 10 divorces—slightly lower than in the previous year.
Critics of the new restrictions say it could cause more illegal immigration, and that the government should offer more social services—including domestic violence prevention and Korean language lessons—instead of trying to legislate what constitutes a "normal" marriage. (To be fair, the government has increased such programs in the last few years.)
But most of all, South Korea, which has often been criticized for its citizens intolerant behavior towards other ethnicities, has a much bigger problem than foreign women getting hitched to its desperate bachelors: its scary-low birthrate, which is even worse than neighboring Japan and China. With far fewer than 1.5 children born per woman, South Korea should be encouraging marriages, not making them more difficult.