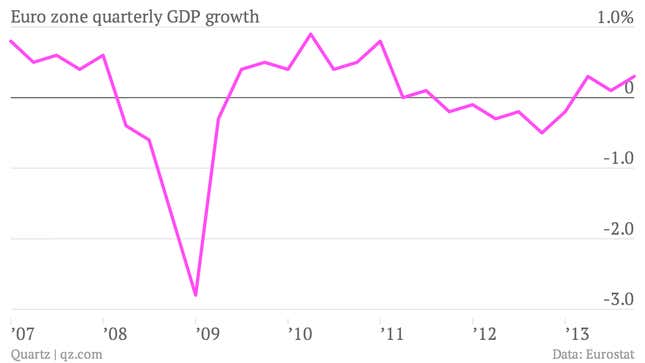 High unemployment, weak banks, a threat of deflation—some believed that the euro zone's moribund economy would force the European Central Bank to cut interest rates or launch some other emergency stimulus effort last week. In the end, the ECB held firm, with president Mario Draghi rejecting the specter of deflation and noting "encouraging signs" of a recovery in growth.
The latest reading of the euro zone's GDP growth, released today (pdf), supports Draghi's assessment. The 18-member monetary union saw GDP grow by 0.3% in the fourth quarter of last year, up from 0.1% in the previous quarter and a bit ahead of expectations. This is hardly robust, but at least it's the third consecutive quarter of expansion, which is encouraging after a long period of contraction. Still, the euro-zone economy remains almost 3% smaller than at its 2008 peak.
The country-by-country details provide further fuel for the optimists. Fourth-quarter growth in the euro zone's largest economies, although modest, surpassed expectations in just about every case. Italy, for example, finally snapped out of recession, eking out 0.1% growth after two years of shrinkage.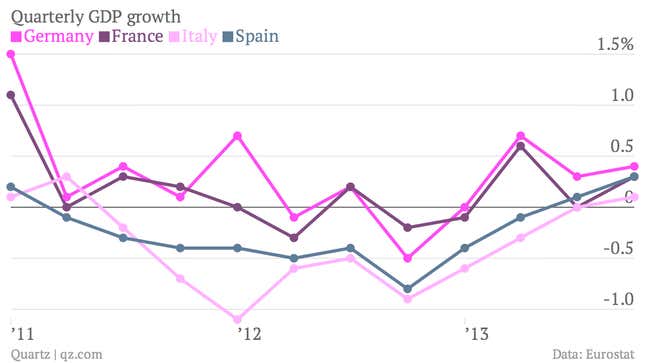 The trends in Italy are a good example of the resilience of the euro zone's recovery, at least so far. As yet another bout of political turmoil breaks out—Italy is about to welcome its third prime minister over the past year—the country's borrowing costs remain near record lows and stocks have been rising. Never mind that Matteo Renzi, the 39-year-old mayor of Florence, will be Italy's third unelected leader in a row after he ousted fellow center-left party member Enrico Letta. Letta, a caretaker prime minister appointed after deadlock in the last elections, himself only narrowly survived a leadership challenge a few months ago, led by Silvio Berlusconi.
Political upheaval in Italy is nothing new, of course, but markets have reacted much more calmly than before to the latest outbreak; after all, no matter what the prime minister's name is, little has changed in terms of the country's daunting debt pile and stagnant economy.
And thus the euro zone's financial crisis appears to recede further from view, now backed by by solid, if unspectacular growth data. If that keeps up, the ECB will face fewer questions about what it should do to support the region's economy. The long-delayed recovery looks like it may finally be able to support itself.