An Ethiopian Air flight destined for Rome was hijacked by an asylum-seeker, and diverted to Geneva. Jean-Philippe Brandt, a spokesman for the Geneva police said that flight 702 landed at the Geneva Airport this morning and the plane's co-pilot has been arrested. Police said the co-pilot had taken control of the plane when his partner left to go to the bathroom. The hijacker left through the the plane's window using a rope once it landed, according to Swiss authorities. There have been no reports of injuries.
Earlier this morning, the plane issued a hijack call to air traffic controllers as it flew over Sudan. Once it reached Switzerland, the plane began flying erratically over Lake Geneva. While circling, a pilot appears to have asked an air traffic controller about asylum, according to this dispatch. A man asks, "Do you know if we'll get the asylum in time. We need asylum or assurance that we will not be transferred to Ethiopian government." The state-owned airline later issued a press statement that the Ethiopian Air flight was "forced to proceed to Geneva Airport" but made no mention of hijacking.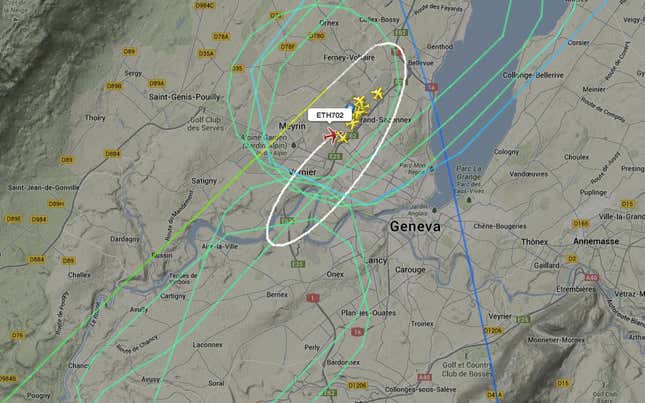 This wouldn't be the first time a plane run by the carrier has been overtaken by asylum seekers. In 1996, an Ethiopian Air flight also leaving Addis Ababa, en route to Nairobi, was hijacked by three Ethiopian nationals hoping to seek asylum in Australia. The plane crashed in the Indian Ocean, killing 125 people, including the hijackers.
More traditional, less dangerous ways of seeking asylum in Switzerland, like filling out forms and getting an international human rights lawyer, have become less certain in recent years. Only 15% of almost 21,500 people who applied in Switzerland last year were granted asylum, as the government has made moves to stem the flow of refugees into the country. In contrast, more than half (pdf, p. 7) of asylum seekers in Italy gained protected status in 2012.
Still, a precedent was set in Britain in 2000, when nine hijackers who took over an internal Afghanistan flight and forced it to Britain. Eventually, the hijackers and over 20 of the plane's passengers, as well as their dependents, were allowed to stay on humanitarian grounds. A hijacker who forced a plane from Sudan to Stansted Airport in 1996 is also still in Britain, fighting in court to remain in the country.