If you're an American homeowner, the bank that gave you your mortgage is increasingly unlikely to still be overseeing it.
Big US mortgage banks like Wells Fargo (paywall), Citigroup and Bank of America, facing stricter capital requirements in the wake of the financial crisis, have been increasingly offloading rights to manage residential mortgages to lightly-regulated non-bank entities. These little-known companies, including Ocwen Financial, Nationstar Mortgage Holdings (majority-owned by hedge fund Fortress Investment Group), and Walter Investment Management have been scooping up hundreds of billions of dollars worth of mortgage servicing rights (MSRs).
For banks, MSRs historically have been an attractive source of revenues. Though the banks typically sell home loans they have made on to other entities—which then repackage the loans into securities for investors—they have traditionally retained the underlying rights to service the loans. That means collecting mortgage payments from borrowers and distributing those payments to investors, for a small fee, typically 0.25%-0.5% of the mortgage value annually. That's given the banks a relatively steady stream of income. 
But over the past two years, some of the biggest banks in the US have been getting out of the mortgage servicing market, Guy Cecala, head of industry publication Inside Mortgage Finance, tells Quartz. The reason is the multi-billion dollar penalties they've had to pay for the wave of improper foreclosures that resulted from their mishandling of mortgage paperwork after the financial crisis.
As a result, some banks have been selling off their MSRs to non-bank mortgage servicers at a fraction of their market value. (The market value fluctuates, because it depends on how the MSRs' fixed rates of return compare to those of other instruments that are based on fluctuating interest rates.)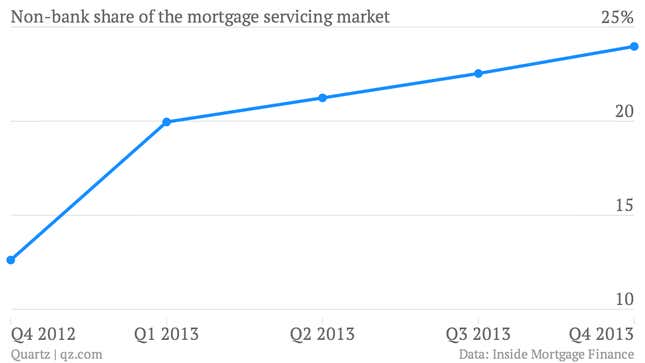 Companies like Ocwen and Nationstar have been some of the biggest beneficiaries of banks' slow retreat from mortgage servicing. The Financial Times reports that Ocwen, which has emerged as the largest non-bank mortgage servicer, has grown its loan-servicing portfolio (paywall) by more than 1,000% over nearly a decade.
The entrance of non-banks into the MSR arena has drawn scrutiny from regulators, including most recently, New York state's department of financial services. Ben Lawsky, the chief of the department, is concerned that for the lightly regulated non-banks, profits will be more important than keeping borrowers from losing their homes. Lawsky blocked a sale of $39 billion worth of MSRs from Wells Fargo to Ocwen earlier this month.
"We—both state regulators and the regulated servicers—need to make sure that these MSR (mortgage-servicing rights) transfers do not put homeowners at undue risk," he said (paywall) at an annual forum of the New York Bankers Association last week. The Consumer Financial Protection Bureau also has voiced concerns about the sales of MSRs to non-banks, and established guidelines for such sales, in an effort to forestall foreclosure problems.