China's main economic regulator is investigating tech giant Qualcomm for abusing its "dominant position in the market" for mobile telecom gear. It's the first official confirmation of an anti-trust investigation that has been underway for several months—one that neatly serves both China's short-term and long-term technology needs.
The Qualcomm investigation, which also includes a probe of fellow US mobile technology firm InterDigitial, comes as China' telecom industry—the biggest in the world by subscribers—rolls out a 100 billion yuan ($16.5 billion) upgrade to 4G mobile phone networks that carry more data. That upgrade will probably have to rely heavily on Qualcomm's products and patents, and the investigation could help forward several Chinese policy goals.
Qualcomm is the world's largest maker of mobile chips and processors—six in 10 mobile phones in China use chips designed by Qualcomm—but it also profits from licensing fees it charges for the numerous patents it holds on 3G and 4G technologies. Even if mobile phone manufacturers choose a competing company, they often pay Qualcomm a licensing fee anyway.
"In the wireless world, the only two certainties are death and paying Qualcomm," the Motley Fool wrote in a report recommending Qualcomm's stock. The company gets royalties of 4% to 5% of the wholesale price on phones using its technology, which can equal $30 per phone for top-end models.
The antitrust investigation could result in fines of $1 billion fine or more, Reuters reported—but of course it could be reduced if Qualcomm offers to lower its licensing fees in China.
The broader context for the probe may be China's increasing impatience with having to rely on foreign companies for technology and in other crucial strategic sectors. China's regulators recently launched probes into the milk formula and pharmaceutical industries, part of a national campaign that foreign businesses complain is targeting them to aid domestic companies.
China's Communication Industry Association filed a complaint with Chinese regulators in January alleging Qualcomm is overcharging, state-owned CCTV reported. Because of foreign-owned patents, "the entire Chinese mobile phone industry is reduced to [being] manufacturers," the association's Wang Yanhui said. "Their profits are taken by global companies."
The Chinese government is also trying to bulk up its undersized domestic chipmakers. China spent more on importing semiconductor chips than it did on importing oil in 2012, according to an analyst from IHS. And the country's semiconductor trade deficit is only going to grow in coming years, according to a recent PricewaterhouseCoopers report: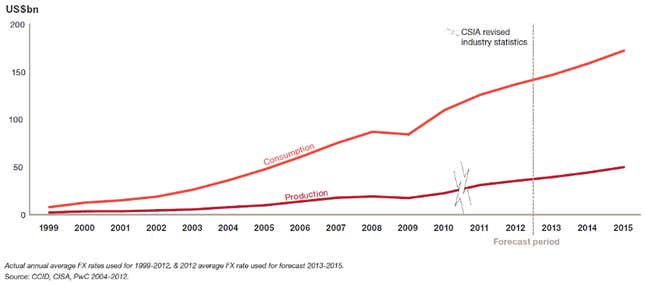 Anti-trust lawsuits are common for Qualcomm. In 2005, European and US cell phone makers including Nokia and Ericsson filed a complaint against Qualcomm for anti-trust violations. It was later withdrawn, but followed by another complaint filed by a UK semiconductor company. The largest fine ever levied against a company in South Korea went to Qualcomm, which was charged with abusing its dominant position in the marketplace.
In the last quarter, Qualcomm's profits rose 18% to $1.5 billion, a figure that was depressed by a fine over a patent battle.