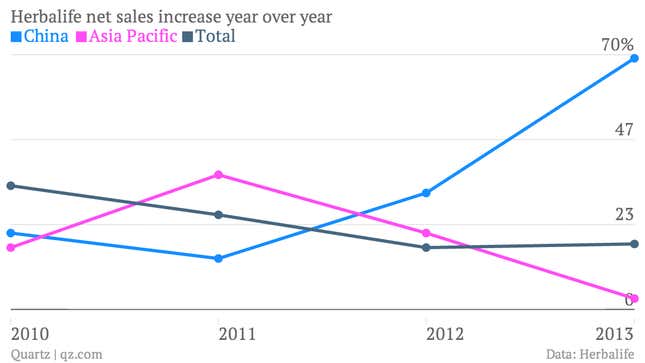 The numbers: Nutrition company Herbalife beat analyst estimates for the 20th quarter in a row. Net profit at the company was $123.5 million, up from $112.2 million the same quarter a year earlier. Sales were up 20% to $1.3 billion for the quarter.
The takeaway: Herbalife, which sells its goods through networks of independent distributors, has been accused of being little more than a pyramid scheme. The company has insisted that it does indeed make money from real customers, especially in new markets around the world. In China, sales rose more than 120% for the quarter, and accounted for 10% of the company's overall global sales last year.
What's interesting: The boom might be short lived. As Quartz has pointed out, the Chinese government doesn't look favorably on direct-sale schemes, which officials say involve brain-washing and cult-like organizing. Last month, the government launched an investigation into the Chinese operations of Herbalife's rival, Nu Skin. To meet Chinese regulations, Herbalife said it has a "unique marketing program" in place, but warned that sales could potentially be impacted by "uncertainties relating to interpretation and enforcement of legislation in China governing direct selling" as well as "adverse changes" in the Chinese legal system or government policies.