Barclays predicts the meat alternatives market will be worth $140 billion by 2030, about 14% of the current value of the global meat industry. Public interest and private sector investment in meat alternatives are soaring, and food startups are responding with ever-more sophisticated products—including bleeding, meatless burgers and chicken nuggets made of meat grown in a lab.
Quartz's latest presentation is your guide to the future of meat—from the startups pioneering plant-based proteins and cell-cultured meat to the forces behind the global shift in meat consumption.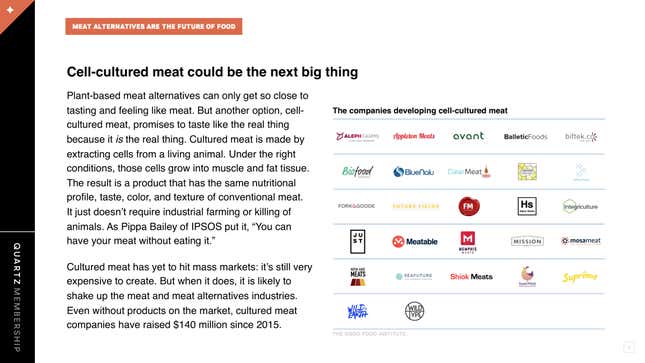 Of meat-alternative companies, Beyond Meat and Impossible Foods are likely the most famous. But the future of meat will be more revolutionary than high-tech veggie burgers. Nearly thirty companies around the world are developing cell-cultured meat, which is made by extracting the cells from a living animal and growing those cells in a lab. In other words, cultured meat is real meat—but made without killing animals.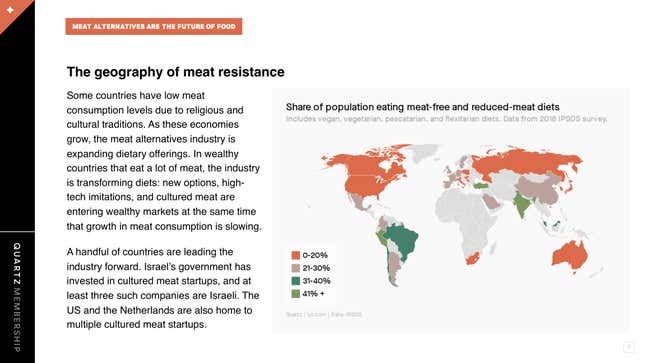 The rise of meat alternatives is a global phenomenon. Cultural practices and concerns about personal health, the environment, and animal rights have long driven interest in vegan and vegetarian diets. Now, as the consequences of climate change become more apparent, humans are increasingly rethinking their relationship to a meat industry whose whose total environmental impact exceeds that of any of the largest oil companies.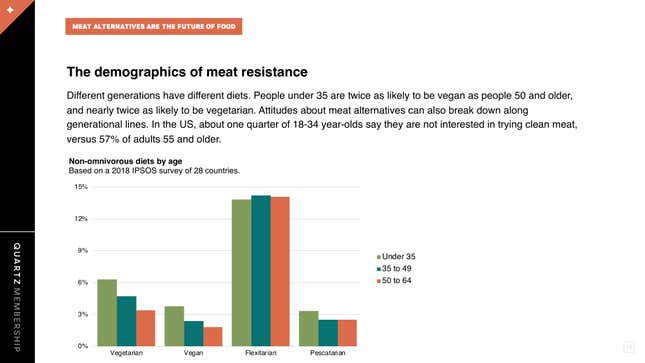 Generational differences contribute to the rise in non-omnivorous diets. Nearly 10% of people ages 18-34 are vegetarian or vegan, according to an IPSOS survey of 28 countries. For people 55 and older, that figure is just 5%. Social media also plays a role, as people around the world become better informed about the cons of eating meat and more exposed to alternative diets.
To see all of the slides, you can view the PDF version or download the PowerPoint file, which includes our sources and notes. This is one of an ongoing series of member-exclusive presentations, which you can read, reformat, and use as you wish.
Please share any feedback about what would make these presentations more useful—or topics you'd like to see us cover—by emailing us at members@qz.com. These presentations are an exclusive benefit for Quartz members. We'd love it if you'd encourage any friends or colleagues who express interest to become a member so they can access them too.