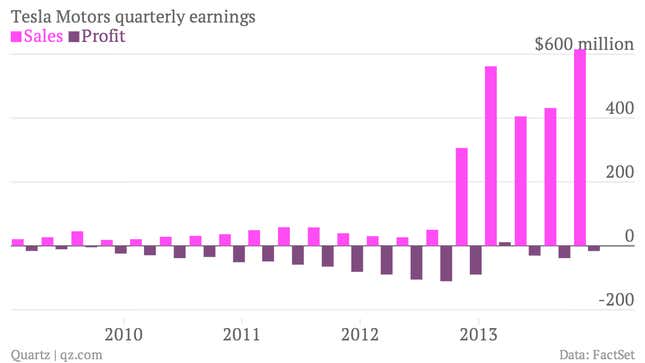 The numbers: Elon Musk's premium electric vehicle maker's fourth quarter net loss narrowed to $16 million, or $0.13 per share, while revenue more than doubled to $615.2 million, from the same period last year. Shares have climbed higher by about 12% in after hours trading.
The takeaway: Tesla delivered 22,477 vehicles in 2013 and expects to increase that to more than 35,000 in 2014, which would be an increase of some 55%.
What's interesting: Some have questioned Tesla's stratospheric share price, which is up 29% in 2014 alone. But if the company continues growing sales at this pace, it might grow into its lofty valuation. Look at the chart below. While Tesla's share price has relentlessly climbed higher over the past year, its enterprise value-to-sales ratio (a valuation measurement used for high-growth companies without profits) has actually declined from some its peak. Some might argue that this decline makes Tesla's valuation look slightly less ludicrous.