Many people, especially in the US, hadn't even heard of WhatsApp before Facebook announced this afternoon that it was buying the mobile messaging app service for $19 billion.
Soon after the deal was announced, Sequoia Capital partner Jim Goetz—who led the only major venture capital investment in the company—published a post explaining how a singular focus on building the best possible product helped a company with only 32 engineers build a network that reaches 450 million users.
Goetz shares this note from co-founder Brian Acton to CEO Jan Koum, which perfectly illustrates what makes WhatsApp unique. Koum keeps it taped on his desk: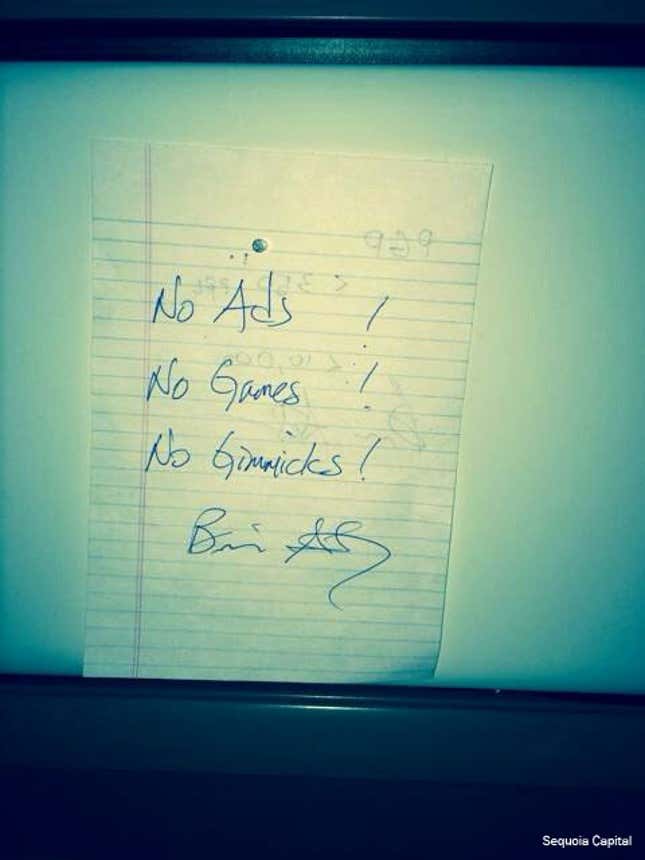 The note "serves as a daily reminder of their commitment to stay focused on building a pure messaging experience," Goetz writes.
Goetz puts it, engineers didn't spend time on monetizing schemes, because all users just pay a dollar a year. They didn't spend time developing new ad products, games, and analytics. Personal data isn't saved, people don't need to build a friend list as one is built from their contacts, and they don't need to enter a user name and password because authentication just takes their phone number.  The company didn't spend a penny on marketing.
Cutting out ads freed up a particularly significant chunk of time, as Koum writes in a 2012 blog post:
At every company that sells ads, a significant portion of their engineering team spends their day tuning data mining, writing better code to collect all your personal data, upgrading the servers that hold all the data and making sure it's all being logged and collated and sliced and packaged and shipped out… And at the end of the day the result of it all is a slightly different advertising banner in your browser or on your mobile screen.
In other words, avoiding ads allowed the the company to focus on making a messaging product that just works well. As Goetz points out, one engineer serves about 14 million active users. And those engineers managed to build a product that processes billions of daily messages across seven platforms with few technical snafus. (Goetz noted that WhatsApp can boast of 99% uptime.)
The company still has a long way to go before it builds out a profitable business, but WhatsApp's success so far is a great reminder of what can be accomplished with the power of focus. 
Photo via Jan Persiel