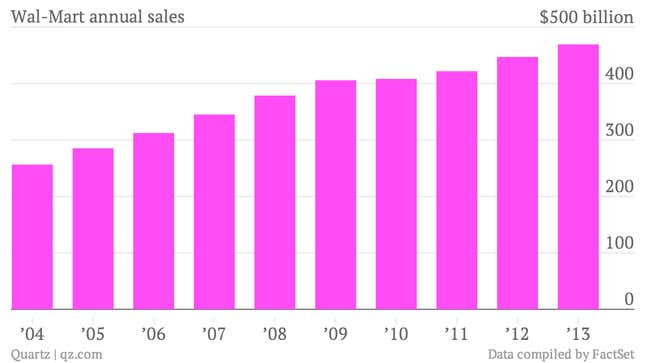 The numbers: Not great. Net income for the fourth quarter was $4.4 billion, a decrease of 21.0% from $5.61 billion a year earlier.  Wal-Mart reported earnings of $1.60 a share, narrowly beating analyst expectations of $1.59 a share. Quarterly sales were $129.7 billion, up 1.4% from the same period a year earlier, but lower than the $129.9 billion analysts expected according to FactSet. Net sales last year were $473.1 billion, which is an increase of 1.6%. Management offered weaker-than-expected guidance: the company said it expects to earn somewhere between $1.10 and $1.20 per share in the first quarter and $5.10 to $5.45 for 2014, below analyst expectations of $1.24 and $5.55. Shares are down more than 1.5% in pre-market trading.
What's interesting: The company is best known for its massive supercenter stores, but is going to make an increased bet on smaller stores in the US. "We will now open between 270 and 300 small format units this year, which will nearly double our fleet and fuel growth as we enter the next generation of retail," Wal-Mart's US president and CEO Bill Simon said in the earnings call. Overall comparable store sales declined by 0.4% in the US, but increased by 5% for the smaller Neighborhood Market format. The Wal-Mart Express pilot program, which has 20 convenience store style locations in three states, will now expand to more areas. Since overall sales growth has been sluggish and the company has lost business to discount and dollar stores, it hopes that it can boost growth and reach new urban markets with a different format.
The takeaway: Wal-Mart is still a primarily US business and the reasons it gave for its low expectations for the coming year focused on American consumers. CFO Brian Holley told investors that the company would likely end up on the low end of its sales forecast because consumers will face reduced government benefits (like food stamps), higher taxes, and tighter credit. Additionally, higher group health costs and investment in e-commerce are going to hurt Wal-Mart's ability to increase operating income, he said.