Steadily growing throngs of spendthrift Chinese tourists have been one of the lone bright spots for consumer economies around the world. Nations are ratcheting up marketing campaigns to attract them—but one economy is managing to attract Chinese tourists and their dollars seemingly effortlessly.
The average Chinese traveler spent 48,000 yuan ($8,000) in France last year, up nearly 11% from 2012, according to new research by China Confidential, the Financial Times' research shop. That compares with a 3% overall decline in Chinese tourists' per-capita spending. Driving that increase is a Chinese love of luxury. The average tourist spent 23,800 yuan ($3,923) in French stores last year—a 20% increase on 2012. 
"It is clear that France has become synonymous with luxury in the minds of Chinese consumers and is the number one location for luxury purchases," says Matthew Plowright, an analyst at CC. "Visitors to France in our survey spent far more on designer bags and clothes, shoes and hats than visitors anywhere else."
It probably helps that four of the five designer brands most popular among Chinese tourists are French (Chanel, Dior, Gucci and Louis Vuitton.) The nearly $4,000 Chinese tourists are dropping in French stores is 45% more than in the UK, whose Burberry, a long-time status symbol, is losing some of its luster with the Chinese. A lot of the spending is on fancy bags. As you can see in the chart below, the average Chinese tourist spends 7,025 yuan ($1,159) on purses: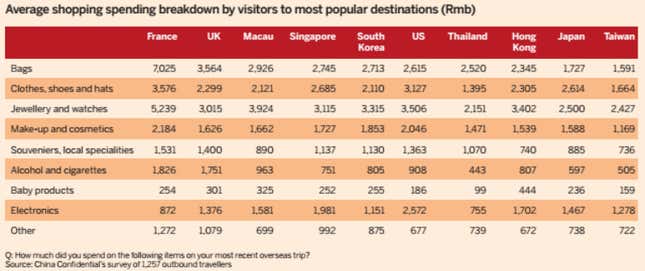 This surge in luxury spending in France is somewhat surprising given president Xi Jinping's anti-corruption drive, which has throttled sales of fancy accessories within China. There are signs that it's taking its toll outside of China as well, as the traditional practice of gift-giving becomes riskier. For instance, spending on jewelry and watches—big-ticket items that were once common gifts among business associates—fell 34.9% in 2013, compared with the previous year.
The anti-graft crackdown might also be showing up in how Chinese tastes are shifting toward less flashy brands. Two of the more logo-laden favorites of 2012—Louis Vuitton and Gucci—fell 3.8% and 2.8% in popularity, respectively, in CC's 2013 survey. Dior, whose Lady Dior handbag brand is a favorite in China, also suffered in 2013; just 21% of respondents identified Dior as the most popular brand, down from 25% in CC's 2012 survey. It also might explain the growing popularity of Hermès, whose trend-bucking 2013 sales increase was attributed to its understated branding, among the wealthiest Chinese tourists.
Then again, the recent Hermès spending surge and other changes might just come down to diversifying of brand preferences as Chinese tourists become aware of more options, says Plowright.
"[B]rands such as LV have become almost too ubiquitous, meaning that shoppers, especially those heading overseas and looking to make a prestige purchase, are opting for alternatives," he says.