Family-owned US candy maker Russell Stover is on the block, and could fetch as much as $1 billion, the Wall Street Journal reports. If history is any guide, expect the company to become part of a large multinational conglomerate, much like Manhattan's family skin-care business Kiehl's was absorbed into L'Oreal and Magic Hat Brewing Company into Costa Rica's beer giant Florida Ice & Farm.
Russell Stover is hardly a Mom & Pop shop—boxes of the company's "French Chocolate Mints" and Whitman's Samplers are already available at 70,000 stores in the US, including Wal-Mart. Still the three brands owned by the company are great American start-up successes that date back to the mid-1800s:
Russell Stover was started in 1923 in a Denver home by Russell and his wife Clara, as "Mrs. Stover's Bungalow Candies" and run from their basement, where a staff of dozens hand-dipped chocolates. The company was purchased by their box manufacturer in 1954, a World War II Navy veteran named Louis Ward, who built it into the "nation's largest manufacturer of gift-packaged candy," according to his obituary, and amassed a fortune of $500 million. His sons Tom and Scott are co-presidents of the company. A box of Russell Stover chocolates served as a metaphor for life in the movie Forrest Gump.
Whitman's Candies was founded by a 19-year old Quaker named Stephen Whitman near the Philadelphia waterfront in 1842, and handed down to his son, who added cellophane wrapping before bringing in a savvy marketing expert named Walter Sharp to run the company. Sharp created the brand's trademark cross-stitched box. Whitman's promotion included advertisements with Hollywood stars and giveaways to soldiers during World War I and World War II. Whitman's was purchased by Russell Stover in 1993.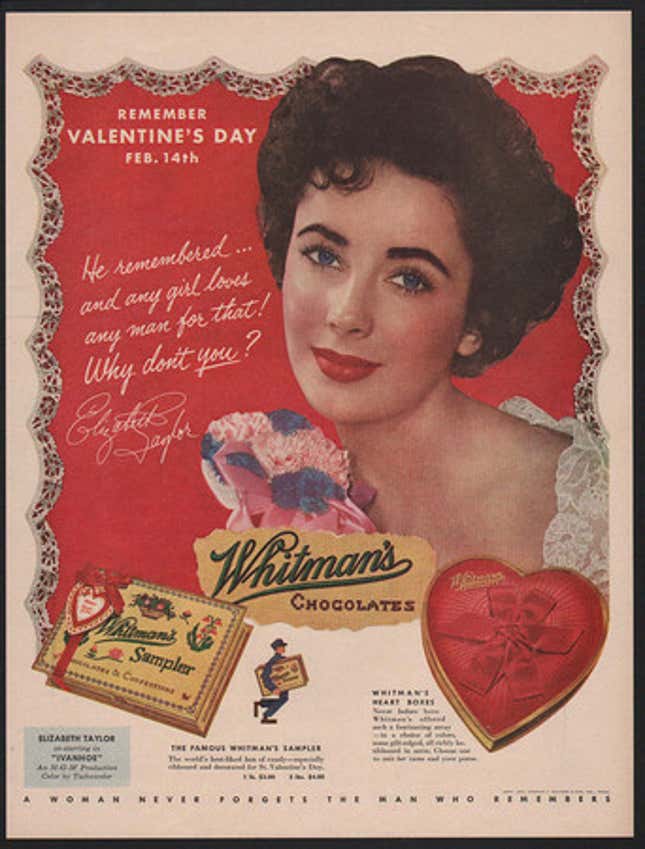 Pangburn's of Texas, "Texas born and loved by all" is probably the least well-known nationally. The company's "Millionaires," chocolate-covered pecan and caramel creations, were created by chemist H.T. Pangburn in his Ft. Worth drugstore in 1914 . Most of Texas's homespun food brands have long ago been snapped up by larger national or international companies, a Texas Monthly columnist lamented when Pangburn's was purchased by Russell Stover. (Those other Texas foods include Jimmy Dean and Gebhardt sausages and Pace Picante Sauce.)
Selling out the family business sometimes seems like the right choice to save the brand, as Jami Morse, whose grandfather bought Kiehl's from the company's founder in 1921, explained to The New York Times. A Christmas rush because of the products' rising popularity prompted the sale, after customer service and manufacturing got overwhelmed:
"As a result, people were having real negative thoughts about Kiehl's," she said. "We took a long hard look at the situation, and we felt that in order to keep up with the demand, in order to not be out of stock, in order to fulfill our destiny, if you will, we needed to take on a partner."
Russell Stover, with $600 million in sales last year, hardly qualifies as a family business anymore, despite its family ownership, but a purchase by a bigger international food conglomerate is sure to prompt some nostalgia.