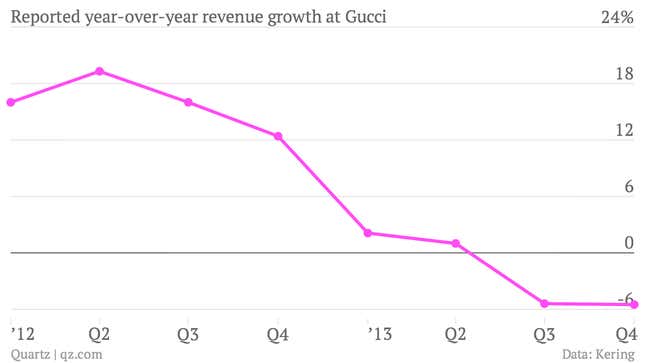 The numbers: Not so shiny. Profits at Kering, the parent company of Gucci, Balenciaga, Stella McCartney and other luxury labels collapsed in 2013, to €50 million ($68 million) from more than €1 billion ($1.3 billion) the year before.
The takeaway: Big charges related to restructuring and shedding unwanted business units explained much of the plunge in profit, as Kering (formerly known as PPR), continued its quest to pare back its portfolio of businesses to a core of luxury and sportswear brands. More worrying, however, is the weak performance of Gucci, the flagship brand which accounts for more than a third of Kering's overall sales (see chart above). Europe's economic malaise and more discerning buyers in Asia—partly related to a crackdown on government officials accepting luxury gifts—are denting growth prospects at the venerable luxury house. Kering's turnaround plan for the brand includes hiking prices and limiting store openings, to give Gucci an even more exclusive image—think fewer leather clutches with price tags in the hundreds of dollars and more crocodile-skin handbags that run into the tens of thousands of dollars.
What's interesting: In some ways, the group's thorniest problem is not its luxury labels but Puma, the sportswear company that Kering controls via an 84% stake. The German sporting goods group reported a 13% drop in sales in the fourth quarter, and spent nearly €130 million ($178 million) to close a factory in Vietnam and move staff back to Europe. Puma was a drag on Kering's sales in every quarter last year, and it says that signing up a new group of sports stars to endorse the brand will help revive its fortunes this year. Capturing the wallets of fickle sports fans and fussy luxury buyers is proving to be a big challenge for Paris-based Kering. The markets remain to be convinced it is on the right track: Shares have dropped 10% over the past year, versus a 5% gain for rival French fashion house LVMH.