At 45 years old, Microsoft seems to just be getting started. After struggling to keep its footing in a changing tech industry in the late 2000s and 2010s, the company is regaining momentum. In 2019, it reached a $1 trillion market cap, a status it shares with just five other publicly traded companies—Saudi Aramco, Apple, PetroChina, Amazon, and Alphabet.
Quartz's latest presentation takes you inside Microsoft's ongoing reinvention—from its transition to a services-based revenue model to its emergence as a leader in cloud computing.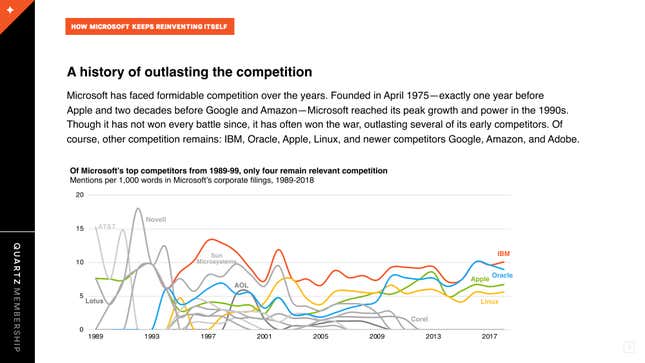 As the oldest tech giant, Microsoft has faced numerous rivals over the years. Some of those competitors have become less relevant to its strategy as the company has shifted focus. In the 1990s, at the height of Microsoft's power, it was also accused of bullying the competition out of the market—a pattern that landed it on the losing side of an antitrust lawsuit in 2001. Today, the company competes on several fronts with longtime rivals IBM, Oracle, Apple, and Linux and newer competitors Google, Amazon, and Adobe.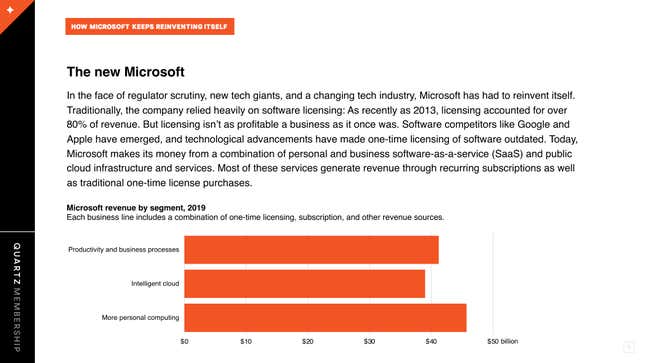 In the face of regulator scrutiny, new tech giants, and a changing tech industry, Microsoft has had to reinvent itself. Traditionally, the company relied heavily on software licensing: As recently as 2013, licensing accounted for over 80% of revenue. Today, Microsoft makes its money from a combination of personal and business software-as-a-service (SaaS) and public cloud infrastructure and services. All three business lines generate revenue primarily through recurring subscriptions, with some one-time license purchases.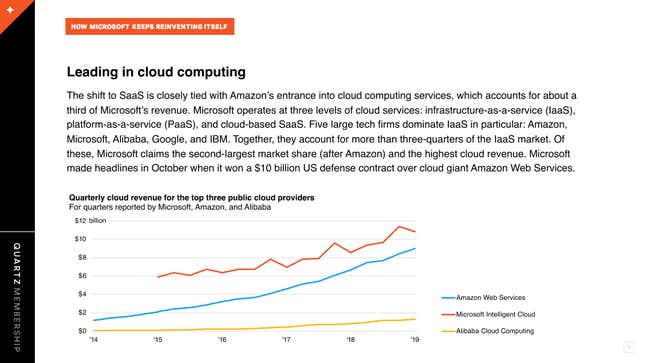 Perhaps most promising of Microsoft's current ventures is its intelligent cloud business. Though Amazon Web Services has long been considered the industry leader on cloud infrastructure and platforms, Microsoft's software-as-a-service sales give it a leg up on cloud revenue. But unlike in the past, when Microsoft's business model depended almost entirely on Office software sales, the company's current model is more diversified. Cloud accounts for about one third of revenue, and Microsoft's other revenue sources include Xbox consoles, Surface tablets, LinkedIn, and office software like workplace chat platform Teams.  Microsoft still isn't content resting on its laurels. CEO Satya Nadella knows he can't afford to miss out a single technological shift, and he dedicated $16.8 billion to research and development last year.
To see all of the slides, you can view the PDF version or download the PowerPoint file, which includes our sources and notes. This is one of an ongoing series of member-exclusive presentations, which you can read, reformat, and use as you wish.
Please share any feedback about what would make these presentations more useful—or topics you'd like to see us cover—by emailing us at members@qz.com. These presentations are an exclusive benefit for Quartz members. We'd love it if you'd encourage any friends or colleagues who express interest to become a member so they can access them too.