The owner of the China's Sina Weibo is reportedly considering spinning the service off in an IPO, enticed by the market's healthy appetite for messaging services, following Facebook's blockbuster WhatsApp acquisition last week.
Sina Corp's microblogging service has become the Chinese internet's virtual water cooler of choice, where citizens spread viral news stories and trade witty barbs about the country's biggest institutions. Sina Weibo is certainly not immune to the censorship of the Great Firewall of China—users regularly play a cat-and-mouse game with censors who take down posts on forbidden topics. And a crackdown by Beijing last year against "Big V" users whose identities were verified by Sina has dented the service's appeal—as has the rise of rival Tencent's WeChat service.
Still, Sina Weibo is reckoned to be worth anywhere from $3.2 billion (based on Alibaba's purchase of an 18% stake last year) to $6 billion (according to analysts at Piper Jaffray). In valuing the the unit, Nomura analysts Jin Yoon and Yong Wang started Twitter's 2011 valuation as benchmark, applied a 50% discount, and concluded that Weibo is worth $3.7 billion, or around two-thirds of Sina's current market capitalization. The company is reportedly seeking only $500 million in the IPO, suggesting that a relatively small ownership stake will be offered.
The acquisition of WhatsApp—and to a lesser degree, the purchase of the messaging app Viber by Japan's Rakuten—has set a new baseline for the valuation of messaging apps and social networks. As noted by the Financial Times, which broke news of the Sina Weibo IPO (paywall), Facebook paid $42 per WhatsApp user:
Sina, unhelpfully, only talks about daily active users—60.2m of them in the third quarter. For want of something better, using the ratio of Facebook's monthly to daily users implies that Weibo would have 98m monthly users. If we assume that Weibo is worth the same proportion of Sina's market cap as when Alibaba bought in, then Weibo is valued at $4.15bn—bang on WhatsApp's $42 per user price tag.
Here's how the valuations per user look, including Viber and Japan's Line: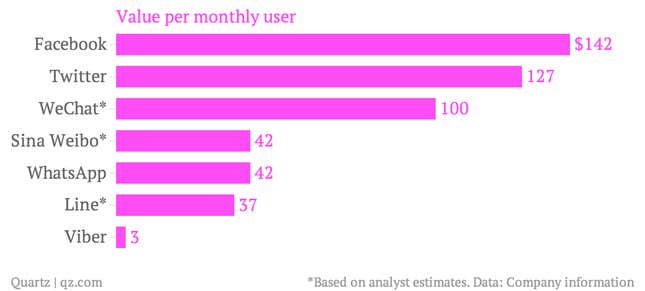 The future of Sina Weibo has become a central battle in the war between Alibaba, China's biggest e-commerce company, and Tencent, its biggest internet firm. So the ultimate fate of Sina Weibo's IPO will depend on the  vicissitudes of that conflict—especially since Alibaba's minority deal allows it to acquire up to 30% of Sina Weibo for an unspecified price, and Tencent has had to shoot down rumors of a WeChat IPO. But whatever the Sina Weibo IPO price might be, it is almost certainly higher than it was before Facebook splashed out $19 billion on WhatsApp last week.