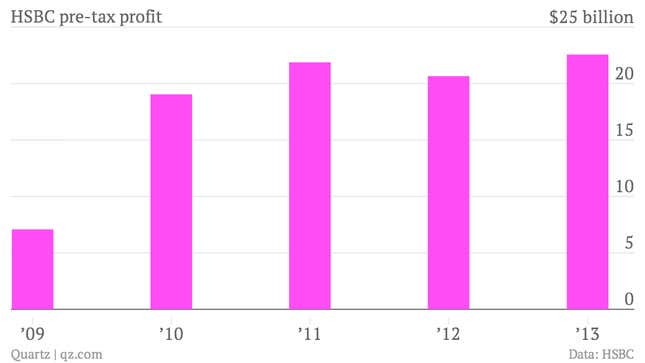 The numbers: What's $2 billion between friends? Last year, banking giant HSBC generated $22.6 billion in pre-tax profits, up 9% from the previous year, it reported today. But analysts were looking for a result closer to $24.6 billion; the bank's share price sank by nearly 4% at the London open.
The takeaway: Although HSBC is making progress on restructuring, cutting costs, and boosting profitability, it is not doing it fast enough in investors' eyes. The bank's goal to introduce a "leaner and simpler" group has featured the sale or closure of 63 business units over the past three years, resulting in 20,000 job cuts and a reduction of $95 billion in risk-weighted assets. Still, HSBC still employs 254,000 people overseeing $2.7 trillion in total assets, and revamping a group of this size takes time; it cut operating costs and boosted return on equity last year, but in both cases fell short of both internal targets and market expectations.
What's interesting: The size and complexity of HSBC's financial statements continue to mirror its sprawling operations, defying the group's pledge to introduce greater simplicity to its business. The parent company's latest annual report runs to a whopping 598 pages, up 50 pages from the previous year and more than 200 pages longer than 10 years ago. The group's complicated legal structure also requires several of its subsidiaries to issue separate reports, which themselves routinely run into the hundreds of pages. Anyone who claims that they have a good handle on HSBC's vast business empire is either being economical with the truth or has a lot of time on their hands to read through novel-length reports of dense legalese.