The United States has been cyberattacked by governments and criminal organizations a lot more than any other country. At least that's the conclusion of a study released this morning of 40,000 online attacks against customers of the cyber-forensics company FireEye.
The US topped the list of countries targeted by advanced persistent threat (APT) activity, which FireEye defines as online attacks that were "likely directly or indirectly supported by a nation state."
American institutions were also targeted by many more APT malware families (collections of malware that share significant amounts of code with each other) than anywhere else. This is significant because a higher number of APT malware families present "likely means a higher number and variety of adversaries—and a bigger challenge in defending any given organization or nation," the report says.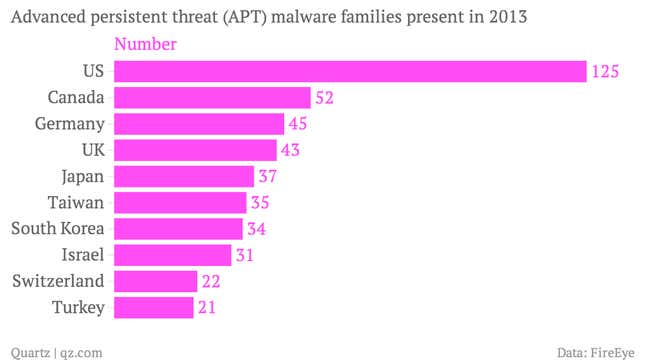 At first glance, it looks like a large portion of these attacks also originated in the US; one quarter of the world's "initial command and control infrastructure" used to carry out advanced cyberattacks is located in the US compared to say, 4.2% for China and Russia with just 3.2%. But those numbers may be misleading because attackers often route or proxy their traffic through multiple servers, in order to make it harder for defenders to figure out where the attack originated.