For the past few years marketing has revolved around mobile app development and social media marketing. This year, however, will be the year we focus on digital video. Industry trends point to an increase in accessibility, content, and audience.  For the media industry, increased demand for digital video will yield higher-than-ever advertising revenue. For marketers, opportunities to advertise in digital video will finally be practical.
Access to digital video at an all-time high
In years past the only access to digital video was through a computer. Today, consumers access primarily through their tablets and smartphones but other access points are growing in popularity. Gaming consoles, in particular, are the new favorite connection to digital video. With a growth rate of 4x in 2013 and a huge number of new media-enabled consoles sold this holiday (PS4 sales topped 4 million units sold), gaming devices will put digital video consumption into hyper drive.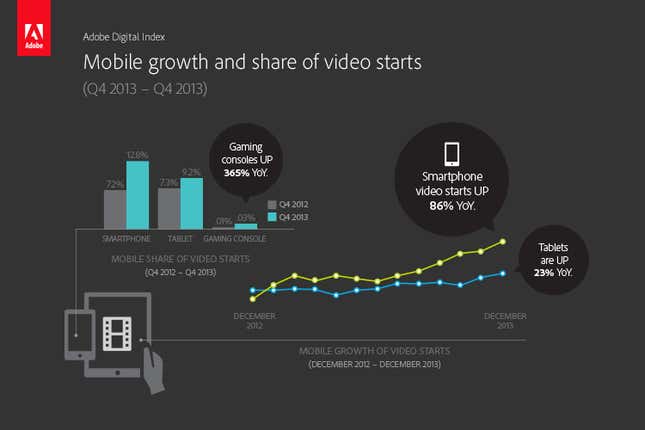 Sporting events expand digital video content
An Adobe Digital Index study of millions of digital video starts reveals that although growth of digital video is occurring among all types of content, sports video drives the most growth in consumption up 640% YoY. Sports content in particular can be cut into clips to increase the overall number of starts versus other types of programming. Clips are perfect for social media sharing, further fueling the growth in consumption. Finally, sports content is especially attractive to mobile users. Regular sports video represents nearly 20% of all video starts whereas annual events such as the Daytona 500 see mobile video consumption audiences grow to 30%.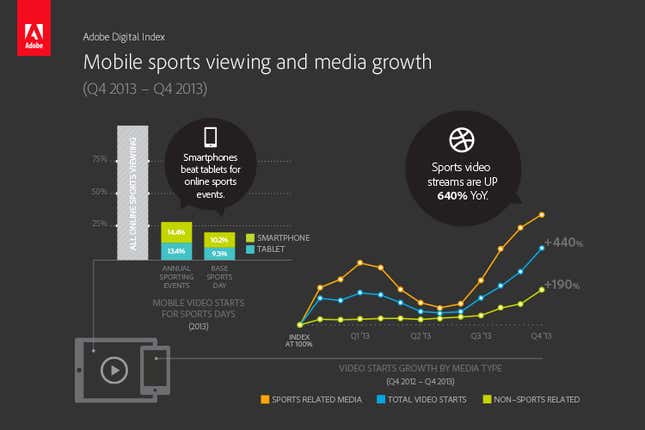 Wearable devices provide another push
The "internet of things" is the next wave of technology purchasing. Connected eyewear, such as Google Glass, seems insignificant now but an analysis of trillions of visits shows 8x growth in the past 5 months alone. Users are affluent and tech-savvy (much like the early tablet purchasers), making them premium audiences for marketers of luxury goods.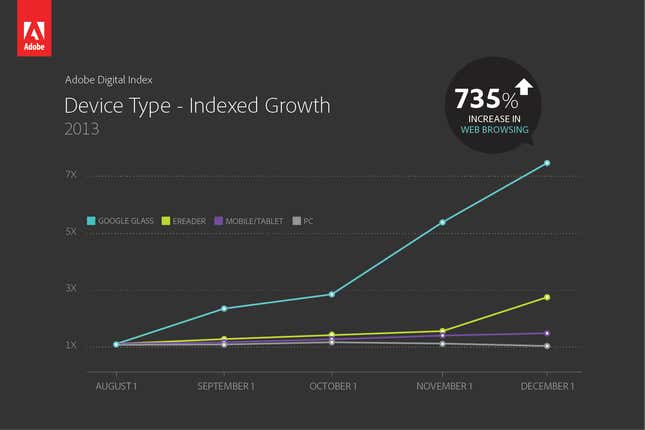 Over 50% of all website visits from Google Glass users are to media sites. Sports programming, in particular, is the primary use.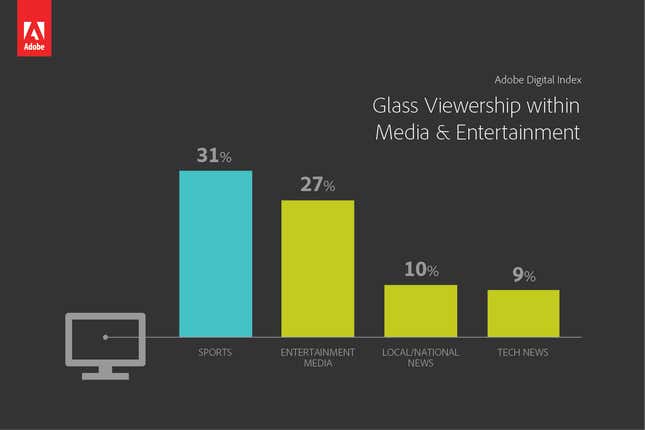 Big opportunity for media
Every other year, broadcasters get an additional boost with Olympics content. This year, they will get a second hit with World Cup in June. The opportunity to generate premium content in 2014 is unparalleled and will create expanded audiences, representing an opportunity for the media industry to reclaim viewers and increase premium audience target size. Media companies who have invested in digital video advertising capabilities stand to gain the most in what we expect to be a big year for the media industry.
For more information, download the full Q4 Digital Video Benchmark Report.
This article was produced by Adobe and not by the Quartz editorial staff.