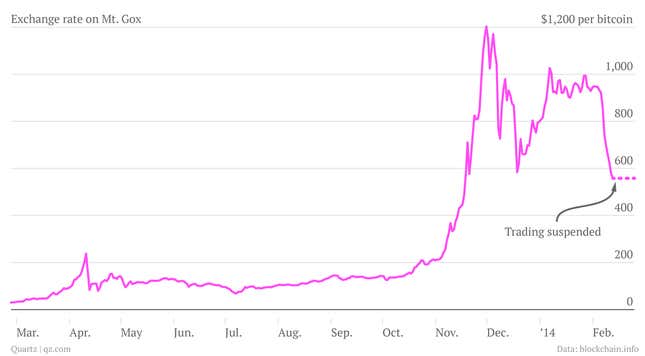 The bitcoin exchange Mt. Gox, once the industry's largest, has gone offline: its website is no longer loading and users believe their deposits, nominally worth hundreds of millions of dollars, have been totally wiped out. Mt. Gox, based in Tokyo, halted all customer withdrawals earlier this month, citing a software bug.
According to a "Crisis Strategy" document believed to be from Mt. Gox and widely circulated in the bitcoin community, hackers have for years been exploiting a critical security flaw in the exchange's software, stealing vast sums equivalent to 6% of all bitcoins in circulation. The veracity of the document, leaked by bitcoin entrepreneur Ryan Selkis, could not be verified, but it lays out a chilling scenario for bitcoin owners and advocates:
The reality is that MtGox can go bankrupt at any moment, and certainly deserves to as a company. However, with bitcoin/crypto just recently gaining acceptance in the public eye, the likely damage in public perception to this class of technology could put it back 5~10 years, and cause governments to react swiftly and harshly. At the risk of appearing hyperbolic, this could be the end of bitcoin, at least for most of the public [emphasis added].
"Gox is the worst-run business in the history of the world," Roger Ver, a bitcoin advocate who lived across the street from the Mt. Gox offices and tried to help it after an earlier hack, told Wired. The company has foundered ever since the US government seized $5 million from its bank accounts for allegedly running an unregulated money transfer business.
On Monday, the CEOs of some of the largest exchanges in the industry, including BTC China and Coinbase, issued a joint statement condemning Mt. Gox but defending the bitcoin industry and its prospects:
As with any new industry, there are certain bad actors that need to be weeded out, and that is what we are seeing today. We are confident, however, that strong bitcoin companies, led by highly competent teams and backed by credible investors, will continue to thrive, and to fulfill the promise that bitcoin offers as the future of payment in the Internet age.
Confidence—that bitcoin is a reliable store of value, and that it can be used without fear of getting totally ripped off—is just the problem for bitcoin. Mt. Gox is by far the largest in a long string of collapses and thefts that have plagued the upstart currency. The exchange had its humble roots as an online marketplace for wizard-themed playing cards (its  full name derives from "Magic: the Gathering Digital Exchange), but in the end it made a fortune in bitcoins disappear into thin air. The question now is whether bitcoin will follow suit.
For more on how bitcoin actually works, you can read our explanation here.