In Ukraine, corruption was the main beef that brought down the government. Venezuelans have more prosaic reasons for being in the street—they can't buy what they want; what they can buy keeps going up in price; and when they go out to buy what they don't want, they feel they might get murdered.
Thirteen people have died so far in three-week-old protests against Venezuelan president Nicolás Maduro, who has dispatched security forces and attack planes to quell the unrest. The protests accompany inflation officially at 56% (but likely much, much higher); the third-highest murder rate of any country in the world; and, according to an official index, scarce supplies of one out of four staple items needed in every home, such as cooking oil, corn flour, and toilet paper. "Caracas may be the most violent capital in the world," Patrick Duddy, former US ambassador to Venezuela, told Quartz.
Even before the protests, these conditions infuriated Venezuelans, according to a Gallup poll released today (the poll was taken from Sept. 26-Oct. 25). Gallup said the poll revealed soaring social discontent. This chart from the poll shows a reversal of Venezuelans' expectations for the future since 2007.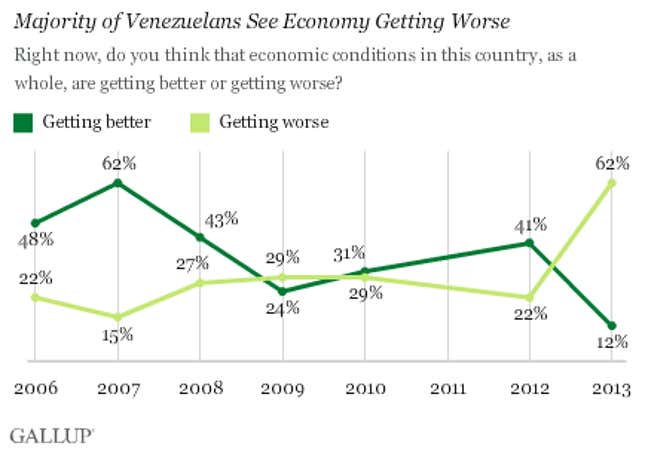 It's one thing if your expectations are low. It's quite another if you worry constantly about your personal safety. Look at this chart.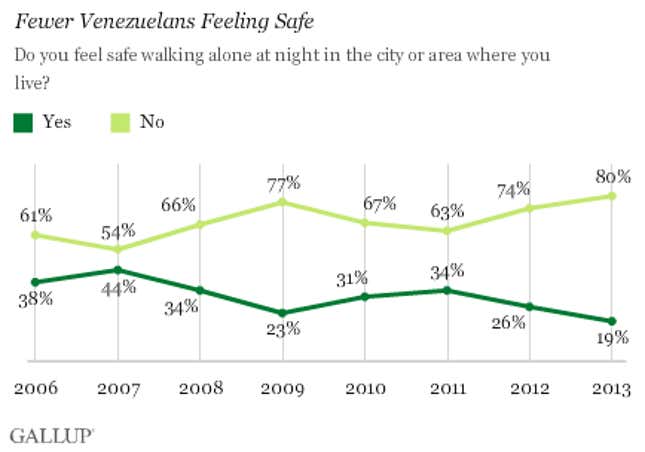 Then there is the necessary showmanship of politics. For all his theatrics, the late president Hugo Chavez had a locally unsurpassed intuition about what would fly among his countrymen. But 11 months after Chavez's death, Maduro, his hand-picked successor, has appeared at times unhinged, with a tenuous hold on reality. He has at turns demonized critics while more recently attempting to mollify them with economic concessions. So far, neither has worked, including the announcement of impending imports of $1 billion in food and medicine, and a loosening of restrictions on imports of other scarce goods.
Chavez seemed to flourish when he ranted against the US. But Maduro has fallen flat with tirades such as this one against jailed opposition leader Leopoldo Lopez: "That detained fascist, Leopoldo Lopez, is a part of the US government plan to destabilize Venezuela."
What is going on? Venezuelans "see their lives and the economy getting worse, and they feel less secure than ever in their own neighborhoods," Gallup says. For now, Venezuelans mostly are asking simply for better conditions. But the price of peace could go up.