As classical conductors go, Gustavo Dudamel is a rockstar. Crowds go wild for the 33-year-old's Eddie Vedder-like mane and the jolly violence with which "The Dude" leads orchestras. Though critics are somewhat less adoring, few would dispute that a millennial conductor hip enough to have his own app in the iTunes store ("Bravo Gustavo") and a nickname that borrows from The Big Lebowski is a blessing for an art form that many worry is dying.
Lately, though, some of his fellow Venezuelans are less impressed. As Venezuela burns, several of its leading musicians have condemned president Nicolás Maduro's government, which has killed 14 in crackdowns on demonstrators this month. Dudamel has remained silent on the issue, making him "a musical giant but a moral midget," said Ricardo Hausmann, a former Venezuelan planning minister and current Harvard economics professor.
Many suspect that Dudamel, who is currently music director of the Los Angeles Philharmonic, is protecting Venezuela's government-funded music education program, El Sistema, through which some 300,000 poor children from dangerous slums perform in orchestras. He's a product of the program himself. Though nominally independent, around 90% of El Sistema's operating budget comes from the executive branch. Former president Hugo Chávez was "jealous of its fame and resentful of its independence," says the Telegraph, and thus tried to co-opt El Sistema as pro-socialist propaganda tool. It's possible he succeeded; the program's flagship Simón Bolívar Symphony Orchestra, which Dudamel directs, has reportedly been openly pro-Chávez.
Dudamel was leading an El Sistema youth orchestra on Feb. 12 in Caracas as government-backed forces put down student demonstrators, killing two people. Pianist Gabriela Montero—Venezuela's second-most famous virtuoso—condemned Dudamel for playing "a CONCERT while their people were being massacred" outside. Dudamel responded, "With our music, and with our instruments in hand, we declare an absolute no to violence and an resounding yes to peace."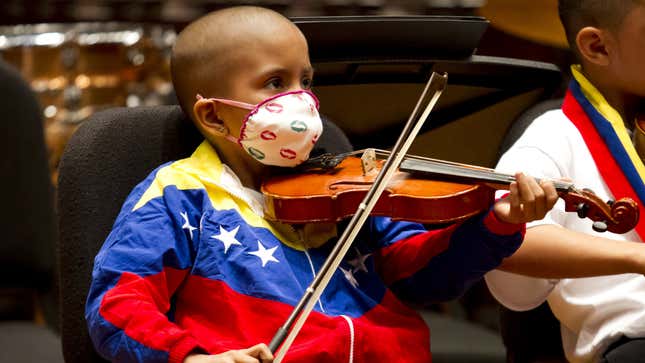 Dudamel certainly wouldn't be the first prominent conductor to dodge politics for the sake of music. Classical music is expensive; it's awfully hard to fund a 100-person orchestra without generous state support.
That has sometimes required sacrifices of integrity. Most famously, Wilhelm Furtwängler, a German conductor in the 1930s and 40s, denounced anti-Semitism and criticized the Nazis. But Furtwängler still conducted Nazi events, saying he was devoted to promoting the values of freedom that music embodies. Still, his actions sealed his reputation as a Nazi panderer.
More recently, Valery Gergiev, a celebrity Russian conductor, has earned notoriety for exploiting his friendship with Vladimir Putin to the benefit of St Petersburg's classical music renaissance. He has even soft-pedaled Russia's anti-gay law. Though it's doubtful a Tchaikovsky-lover is overly worried about Russia's homosexual menace, kowtowing to autocrats means accepting their terms.
Dudamel's silence is less different than it might seem. Although many suspect he's keeping mum for El Sistema's sake, neutrality is impossible. It only gives power to the fear Maduro now wields. Given how Maduro is using that fear to bolster his authority, it's hard for Dudamel to claim he stands for peace.