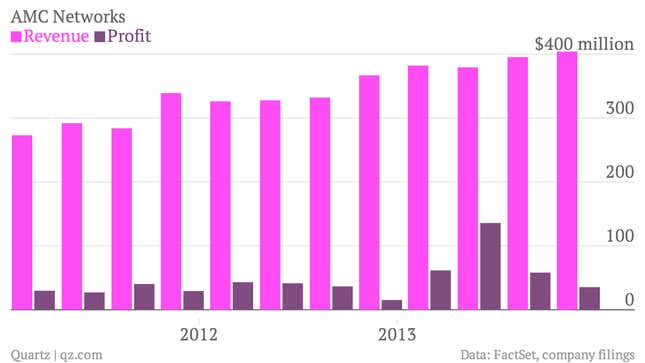 Although the AMC Network's hit shows Mad Men and Breaking Bad have won critical praise (to the point of becoming full-fledged cultural phenomena), it's the lower-brow The Walking Dead that gets the highest ratings on cable TV. And that's what today underpinned AMC's best quarter, in revenue terms, since it was spun out of Cablevision in 2011. The Walking Dead, set in a post-apocalyptic world of flesh-eating zombies, has consistently been the most watched show anywhere on television among adults aged between 18-49. Last week, it even beat the Winter Olympics closing ceremony in the key demographic. Importantly, it's also AMC's first wholly owned show: Mad Men and Breaking Bad were both made by external production companies (Lionsgate and Sony respectively).
The advantage for AMC in wholly owning the show is that it has greater control over the budget (it was criticized for cutting costs in 2011); and, as Barron's has pointed out(paywall), a bigger cut of the profits. Owning the show also allows the network to take better advantage of the show's popularity in foreign markets, where the company signaled a major push last year, paying about $1 billion for a portfolio of cable networks in Europe and Latin America.
Today's results would suggest that the strategy is working.