British intelligence has been spying on millions of  Yahoo users who are not suspected of any wrongdoing, and has collected and stored a huge number of images from Yahoo webcam chats. These revelations were reported by the Guardian, citing documents obtained from former US National Security Agency employee Edward Snowden.
While its unclear whether they found any evidence of terrorist activities, they definitely found plenty of evidence of another sort: pornography.
With some understatement, the British intelligence document reviewed by the Guardian says: "The fact that the Yahoo software allows more than one person to view a webcam stream without necessarily sending a reciprocal stream means that it appears sometimes to be used for broadcasting pornography." Perhaps 3-11% of the Yahoo webcam imagery collected by GCHQ featured "undesirable nudity," it said.
Those figures suggest the Brits must not have been looking very carefully, based on Yahoo's most popular webcam groups.
Yahoo has over 38,000 groups with the word "webcam" in their description. Of these, the most popular ones, like "my3rb" with 241,879 members, are almost all pornography related. Of the top 20, by numbers of members, most describe themselves like this: "usa uae united arab emirates arabs webcams webcameras faves chunky fat thick heavy skinny babes." Only one of the dozens of Yahoo webcam-related groups with more than 10,000 members does not appear to feature outright porn, and that bills itself as for "singles members looking to hook up with other group members for webcam fun." To be honest, we didn't feel like investigating any further.
Being the target of British intelligence is only the latest problem to hit Yahoo users—at the end of January, the company said an unspecified number of email accounts were hacked, probably "from a third-party database compromise." Yahoo ranks fourth behind Google, Microsoft and Facebook by overall users, according to a Comscore analysis of monthly traffic, and risks slipping further down the rankings if it suffers any more missteps.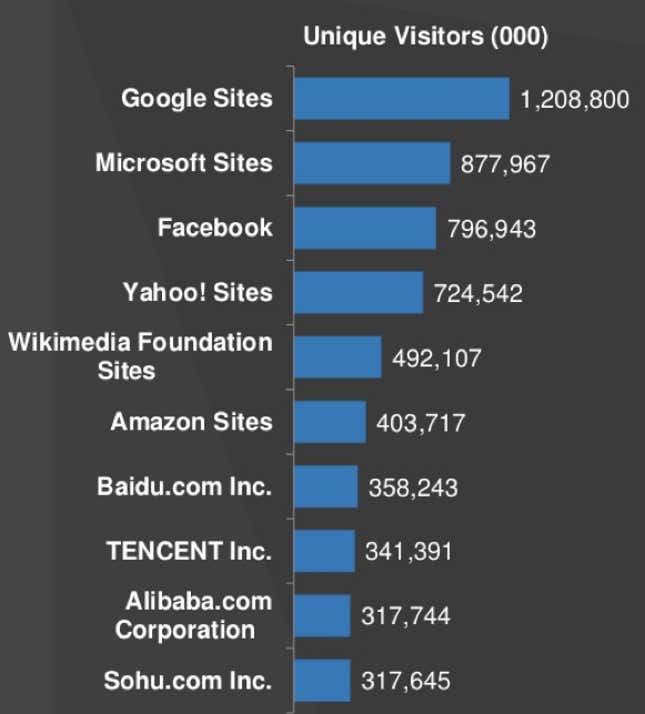 One concern inside Yahoo is that the latest spying revelations will drive users away. The company has publicly condemned it as "completely unacceptable," and internally the situation is "the subject of considerable internal heartburn," one Yahoo executive told Quartz. The company has put together a group of legal and product experts to study the situation. When it comes to the company's webcam user groups, this could be an eye-opening exercise.