Take the weekend off, Morgan Stanley junior bankers!
That's the message managers are now verbally relaying to their underlings, sources familiar with the bank's internal policy told Quartz.
That's a shift that stems, in part, from a recent review of the firm's practices by an internal committee  (paywall) formed by the bank to look into boosting morale and fostering a better work environment. Morgan Stanley's changes come after a number of Wall Street firms have been wrestling with hammering out policies to make the financial services sector a more attractive place to work.
In part that's a reaction to the death last year in London of promising, 21-year-old Bank of America intern Moritz Erhardt, which prompted changes at Bank of America. It's also a reflection of the fact that top graduates now appear to be less inclined to view Wall Street—and the long hours of financial services—as an ideal career path.
There are some indications that grueling nature of life on Wall Street is costing the industry talent. Data from Harvard Business School illustrates that point, showing that 27% of HBS grads are going into financial services versus 42% in the halcyon years of 2006.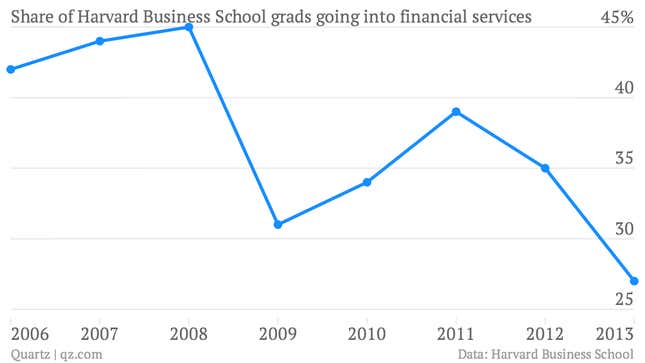 Meanwhile, the number of business graduates going into the technology sector has increased significantly.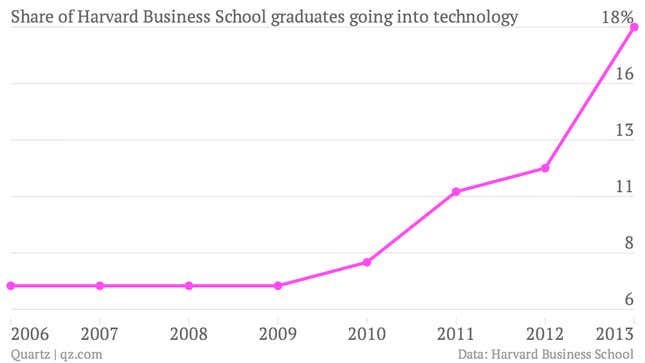 Thus far Morgan Stanley has been one of the last banks to make internal changes to its work hours for its junior bankers. Last month reports surfaced that Citigroup had decided to cut (paywall) hours for young staffers. Back in October, Goldman Sachs announced that it had made changes to the work culture at the bank, which is known for its rigorous working hours.
Sources tell Quartz that Morgan Stanley wanted to ensure that bankers weren't working "unnecessary hours." But it should be noted that Morgan Stanley isn't putting the changes in writing–and they won't be officially announced as a formal company policy, sources familiar say. The Morgan Stanley committee overseeing banker lifestyles hasn't been dissolved and will continue to review the bank's policies toward junior bankers. And there will still be times, such as when an important deal is in play, when the old rules apply.
"I'm not sure how you stop work if there's a deal on," Morgan Stanley CEO James Gorman said during  a Bloomberg interview in Davos, Switzerland last month.