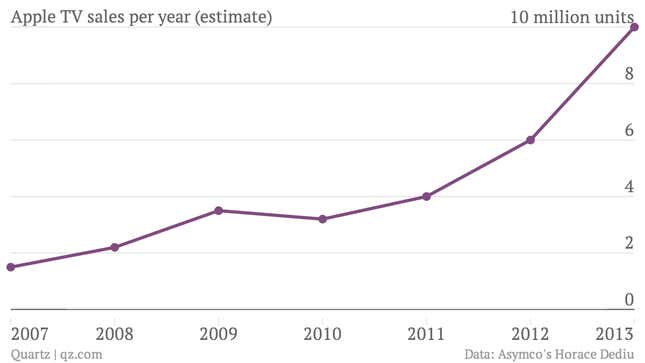 Apple TV generated more than $1 billion in hardware and content sales last fiscal year, CEO Tim Cook just revealed. That makes Apple TV the company's fastest-growing product, according to estimates by analyst Horace Dediu.
Apple has long referred to its set-top box for television sets as a "hobby," since it still pales in comparison to phones and computers. But as sales grew, Apple TV was more recently upgraded to a "beloved hobby." And at Apple's shareholder meeting today, Cook said, "It's a little more difficult to call it a hobby these days."
All told, Dediu estimates that Apple has sold 28 million Apple TVs since the product debuted in 2007. That compares to 8 million set-top boxes sold by its nearest competitor, Roku, since 2008.
These devices, which plug into television sets for watching internet video, have long been viewed as an interim solution in the evolution towards fully internet-connected TV sets. But set-top boxes have proven surprisingly popular as streaming video services like Netflix have improved and cable television hasn't. That's in part because the software on internet-connected TV sets, which should preclude the need for a set-top box, is generally hard to use.
It's instructive to watch this advertisement for the first version of Apple TV from 2007. Not much has changed in the intervening years:
Apple is said to be working on an update to Apple TV this year, with better hardware, and offering integration with some cable television services in the United States. (It stoked those rumors today by offering a discount on the current version of the device.) That would still be a far cry from Apple's real ambition of releasing a full-fledged television set of its own.