GrubHub and Seamless charge an average commission of 13.5% for restaurant orders placed through their websites and apps. And restaurants pay more to appear higher in search results, which isn't apparent to diners.
The commission hasn't previously been disclosed, but it can be deduced from data in the company's IPO prospectus. The American restaurant delivery startup, formally known as GrubHub Inc., takes a cut of each meal it processes. Last year, just over $1 billion in delivery and pick-up orders were made through GrubHub.
GrubHub generated $137 million in revenue from those transactions in 2013, implying an average commission of 13.5%. (See our math here.) GrubHub is free to use for diners; it doesn't publicize the rate restaurants are charged, but previous reports have said the commission ranges from 5% to 15%.
The size of GrubHub's cut varies depending on how much the restaurant is promoted. The prospectus explains, "Restaurants can choose their level of commission rate, at or above the company's base rates, to affect their relative priority in its sorting algorithms, with restaurants paying higher commission rates generally appearing higher in the search order than restaurants paying lower commission rates."
That isn't clear to GrubHub and Seamless users. (The two services merged last year but still operate as separate brands.) Search results that have appeared higher because the restaurant is paying more aren't labeled as such. The algorithm that ranks restaurants on the websites and mobile apps can seem mysterious.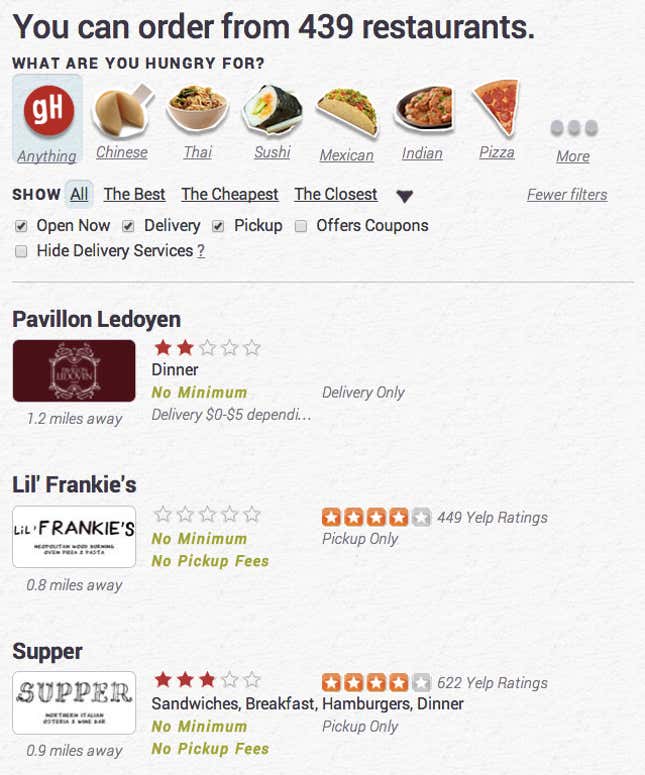 Charging for inclusion in search results is controversial, though common in the services industry. US Federal Trade Commission guidelines call for "clear and conspicuous" disclosure of paid search results. Google last decade sparred with competitors like Microsoft and Yahoo over their disclosure policies for paid inclusion.
GrubHub describes its variable commission as an "attractive business model," which may be true in the short term. It's the only way to make more money aside from adding new restaurants and diners. But charging for better search results may damage the company in the long term because it degrades the user experience.
In the large cities where they thrive, GrubHub and Seamless already suffer from providing diners with too many options, which can lead to a paralysis of choice. The services aren't good at filtering the multitude of options, in part because user reviews aren't robust (GrubHub integrates Yelp reviews for this reason) but also because the company has a conflict of interest: It wants to keep all of its restaurants happy, especially those that are paying more. A recent email from Seamless to customers claimed to have solved "the theory of lunch undecidivity," but in fact, that equation remains a great mystery of urban workplaces.

The filter failure may present an opportunity for other startups to provide a better way of navigating restaurant selections, the way sites like The Wirecutter provide a front door to Amazon's abundant marketplace. But for GrubHub, the fact that its business model could preclude solving its search problems seems like a real risk. It currently enjoys dominance over restaurant takeout orders in the United States today, but less encumbered competitors—like, say, mobile payments startup Square—could easily snatch away that advantage.