India and China—two massive, neighboring Asian emerging economies, each home to over a billion people—are on the way to forming one of the world's largest trade relationships. According to a study by the PHD Chamber of Commerce, an industry trade group in New Delhi, China has become India's largest trading partner, with Sino-Indian trade reaching $49.5 billion during the first nine months of the current fiscal year.
According to the study, China has edged out the United Arab Emirates—India's previous top trading partner—and is comfortably ahead of the US and Saudi Arabia.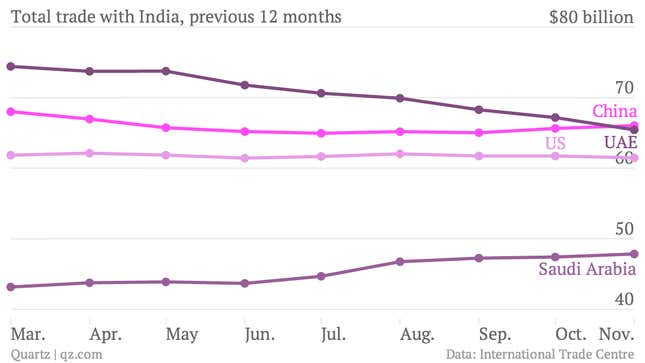 China's newfound role as India's top trading partner is a sign of growing "south to south" trade. Both China and India are among the world's top trading countries, with 35 countries naming China as their top trading partner and six countries naming India as theirs.
But Sino-Indian experts say economic cooperation between the two Asian giants is still hampered by unresolved disputes. Beijing and Delhi have yet to agree on sovereignty over an area along the shared Himalayan border that China calls South Tibet and India calls Arunachal Pradesh—the subject of a brief war in 1962. Last week, the chief minister of the state of Gujarat, Narendra Modi, a front-runner in the race to be India's next prime minister, called China's policies regarding the area "expansionist."
For India, a growing trade imbalance with China has contributed to a current account deficit that pushed the rupee lower last year. While India's current account deficit has narrowed recently, Indian officials are still pushing for a larger piece of the trade between the two countries.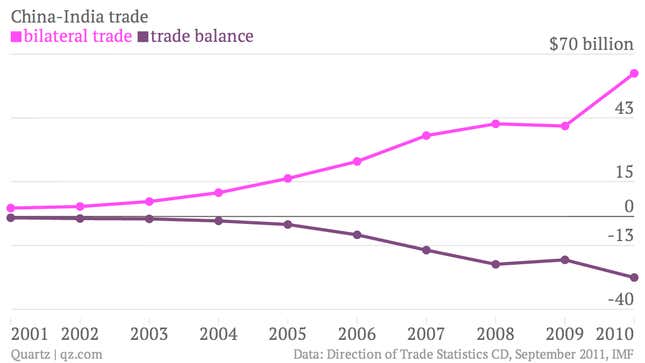 Other problems include tension over how to manage over a dozen rivers that the two countries share. Indian security experts also worry that China is trying to encircle the country with a string of ports and naval bases. And according to a survey released earlier this month, more 18-22 year-olds see China as posing the greatest security threat to the country, ahead of Pakistan. Although India and China have pledged to increase bilateral trade to $100 billion by 2015, it seems there's still quite a long way to go in the trust department.