There was much excitement last week—well, in certain circles, anyway—when the New York Times unmasked the person behind @GSElevator, a Twitter account with some 650,000 followers that published purported gossip overheard in the Goldman Sachs elevators. The author, it turned out, was not even a Goldman Sachs employee. But his identity had actually been in the public domain since July last year. You just had to know where to find it.
The above tweet is from Alex Turnbull, a trader for one of Goldman Sachs' Asian special situations desks in Singapore. (Sources have confirmed to Quartz that the account is his.) Turnbull is the son of a prominent Australian politician and former investment banker, Malcolm Turnbull who, before entering parliament, ran Goldman's Australian offshoot (he was one of its 221 partners when the firm went public in 1999). These days, Turnbull Sr. is a cabinet minister in charge of Australia's communications department.
@GSElevator has tweeted about Alex Turnbull on a couple of occasions, but only Goldman obsessives and sections of the Australian press noticed. And the first, unsavory tweet apparently spurred legal action.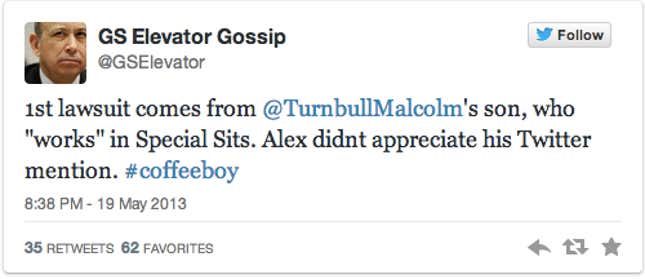 @GSElevator, who we know now to be a 34-year-old Texan, John Lefevre, laughed off the spat in an interview with Sydney based BRW Magazine last year. "The absurdity of that is almost laughable… And as I don't think his case would have any merit, I am not worried about it," he reportedly said. But it seems to have been what led to his identity being disclosed publicly for the first time.
Alex Turnbull is not authorized to speak to the media, and he did not respond to a request to inquiries made via his father's office or the company. It's not clear how he came to figure out who Lefevre is and why this information didn't go further up the food chain at Goldman, which also declined to comment. But Turnbull's 39 followers on Twitter would have known the truth since July of last year.