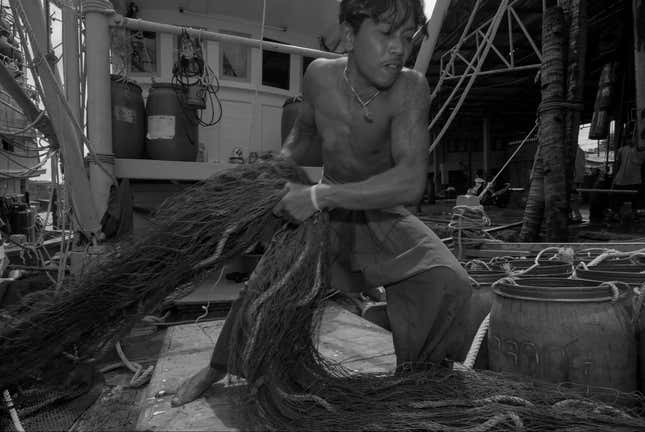 Thailand has a long-standing problem with human trafficking. Migrants from Myanmar, Cambodia and Laos are conscripted into its seafood industry. A report out today from the Environmental Justice Foundation suggests that, despite increasing international pressure and Thai government attention, it's still happening.
EJF found that industry operators are just working harder to avoid detection. One way they do that is to reshuffle and sell trafficked crew members while at sea, minimizing the risk of their escaping. This means victims of trafficking spend years at sea, virtually imprisoned by fishing boat operators.
Why is this happening? In addition to corruption and demographic trends, another huge factor is simply that Thailand's fishing industry has ransacked its waters of fish. It's "increasingly clear that the Thai Government's chronically poor fisheries management has exacerbated this problem, as stocks have been over-fished and declining catches have led to operators cutting costs further by using slave and forced labour, keeping them at sea longer to make the catch," says Steve Trent, EJF's executive director.
Back in 1961, fishermen in the Gulf of Thailand—the body of water between Thailand and Vietnam—caught around 300 kilograms (661 pounds) of fish in an hour. By 2011, they were catching just 25 kilos—around a 90% reduction (pdf, p.8). EJF reports that on the Andaman Sea—off the western coast of Thailand—the catch per hour dropped to 41 kg in 2011, down from around 240 kg in 1961.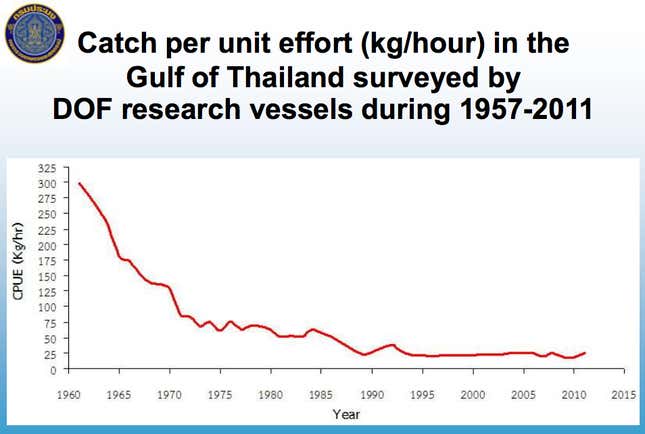 "The Thai fishing industry has gone through a textbook example of rapid modernization and industrialization of the fleet in the 70s and 80s, which led to overfishing," Yumiko Kura of the WorldFish Center told the Pulitzer Center. That crashed populations of many valuable fish, which, due to the lack of management and the explosion in illegal fishing, have never recovered. Thailand has now overfished nearly every possible species (pdf, p.16, 36) off both coasts.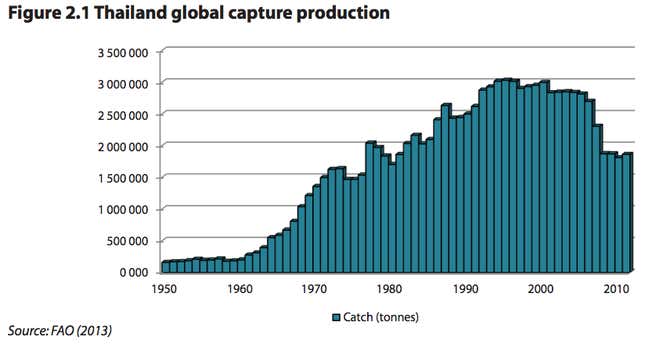 What's more, even though Thailand has signed agreements with neighboring countries so that it may fish in their waters, Thailand's coastal area remains crowded with fishing boats: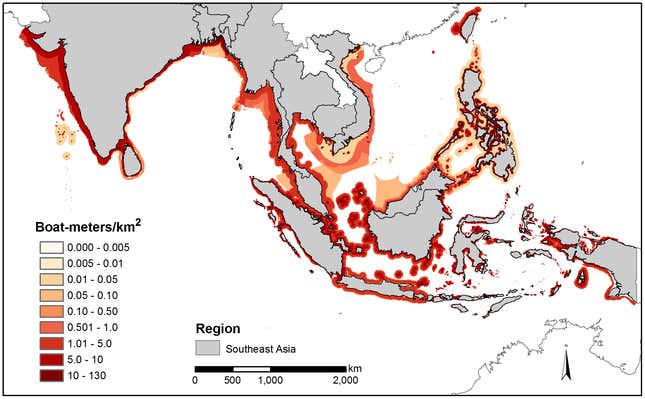 So it's not exactly surprising that fishing operators are doing whatever they have to to keep down staffing costs. It might not even be that surprising that, as EJF reports, the Thai government and its courts continue to drag their feet in cracking down on the use of forced labor. Seafood exports were worth $7.3 billion to Thailand in 2011 (pdf, p. 2), a small but not trivial 1.5% of total exports. The US, which imports around $1.6 billion of Thailand's seafood, is now weighing whether to ban federal government procurement of certain types of seafood that is suspected to involve trafficked labor (pdf, p.358)—though it's not clear how much of a dent that would make in the overall trade.
Of course, pressuring the Thai government to outlaw forced labor is important. But the overfishing problem that creates the incentive for forced labor in the first place may be just as important to tackle.