The Industrial Age has given way to the Information Age. Typing away in our open offices, we are now the factory workers, manufacturing "content."
Unlike machines on the factory line, I am constantly overwhelmed … by the emails, meetings, scheduling conflicts bombarding me all day long. To see if I could automate part of my life, I turned to one of the world's most efficient manufacturers, Toyota, and its productivity guru, Jamie Bonini. Though his background is in automotive engineering, Bonini has based his life on cutting out waste or, in Toyota terminology, "Muda."
As general manager of the company's Production System Support Center, he travels the country teaching non-profits and smaller to mid-sized manufacturers how to be more productive.  So I invited him to spend a day with me and my team and give us a productivity makeover.
In the name of efficiency, I'll just share three key tips:
1. 
Don't do things in batches.
For example, instead of running the dishwasher when it's full or letting the sink fill up and then having at it, Bonini washes each dirty dish immediately after he's eaten off it. He and his team have proven this reduces the time between when a dish is dirty and when it is back on the shelf to be reused. This then leads to…
2. "Flow." Keep things moving at all times.
With Bonini's coaching, one New York City soup kitchen reduced its wait time from 90 minutes to 18 minutes, simply by moving the waiting area closer to the buffet and seating people the moment a chair was empty, rather than in groups of 10.
3. 
Use Post-it Notes. Lots of them. In many colors.
Bonini lives by the motto "Make Tacit Knowledge Explicit." In other words, take all those things you know intuitively about your day (8am: Get team to decide on goals; 10:30am: Check in with team, etc.) and turn them into old-school charts.  Like the dashboard of a car, these charts need to be in your face, alerting you to vital information with minimum interruption. Forget about downloading another productivity app, just head to a stationery store.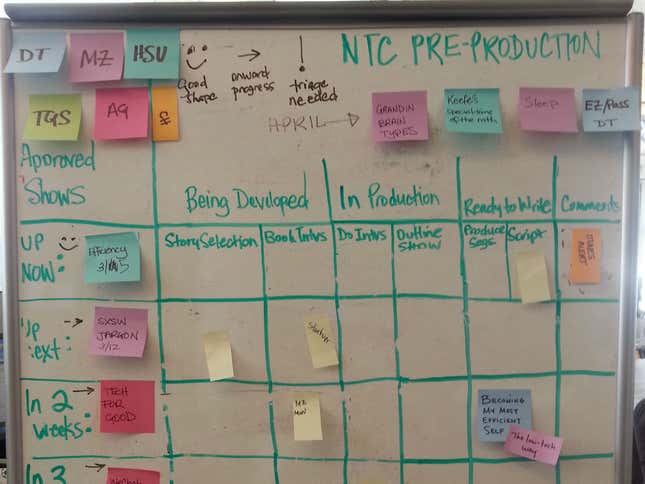 I was skeptical that these low-tech techniques would work for us creative human beings but witness my metamorphosis in the video below.