In September 2012, shortly after Marissa Mayer took charge of Yahoo, she moved swiftly to try and rectify what was considered the search giant's biggest problem: a lack of talent. The company's long-serving head of human resources departed, and a former private-equity executive, handpicked by Mayer, replaced him.
Since then Yahoo has been on an acquisition spree—or more accurately an acqui-hire spree, buying some 37 companies and their staff, according to CB Insights, the biggest of which was the $1.1 billion purchase of blogging service, Tumblr.
And now Yahoo thinks the problem is solved and its talent crisis is over. At least, so suggested its chief financial offer, Ken Goldman, who spoke at a Morgan Stanley investor conference in San Francisco this week. Goldman was asked whether an exodus of Yahoo veterans to places like Facebook, Google and startups could affect the quality of its services.
"There's no question that we lost a number of folks along the way. We lost that because, in some respects, we pushed them out," he said.  "When we came to the company, and we talked about acquisitions…frankly, companies did not want to be acquired by Yahoo…and for us to even acquire them we would have to pay a 'Yahoo premium' because they didn't want to come here. That's not the case any more."
Competition for talent in Silicon Valley is fierce, and of course the CFO is going to talk up Yahoo as a good place to work. But Goldman's statement is backed up by the company's annual report, which claims that it received more than 340,000 job applications in 2013, double the number in 2012. According to the career site Glassdoor, Yahoo was the third-highest-paying company in Silicon Valley for engineers last year, behind Juniper Networks and LinkedIn.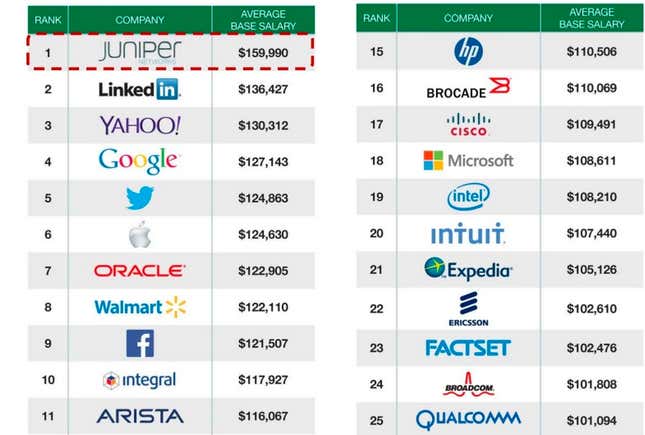 But salary isn't everything; unlike Facebook, Google or Twitter, Yahoo did not make it into Glassdoor's separate list of the 50 best places to work.
Mayer has received her fair share of criticism for not letting staff work from home and for scheduling weekly meetings on Friday afternoons. But if the company is to be believed, the cultural change she has instigated is working.
"She deserves the credit relative to changing the attitude and morale and the desire, if you will, to… attract new folks as well as to retain folks we have," Goldman said. "So I think – I'm very confident. If you talk to anybody at Yahoo today you would find them, whether they've been here for a year or five years, they're very, very pleased with what they see in working at Yahoo. I'm absolutely, very confident in that relative to attrition and our ability to hire all points to that."