The news that Miguel Hahn and Jan-Christoph Hartung read out of Africa never seemed to be good. Then, they came upon an article about the burgeoning middle class. The two German photographers started researching the changing demographics of Africa. The middle class was growing, unseen by many, they found. Kenya, in particular, seemed to be the most extreme example of change and therefore had the biggest visual potential. Their project in Kenya eventually became "The Forgotten: Example of an African middle-class."
What is the middle class? That depends on your definition. In fact, some of Hahn and Hartung's subjects didn't know if they were in the middle class when they were approached for a photo. In some ways, it's more of a "know-it-when-you-see-it" phenomena.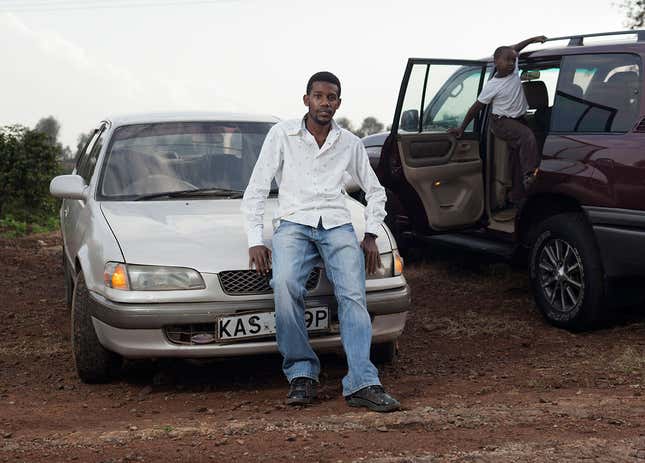 The middle class in Africa has tripled over the last 30 years, according to the African Development Bank Group. That's more than 300 million people. But the report defines "middle class" in relative terms.  Middle class in Africa is an annual income of over $3,900.
The country is changing as the middle class expands. One sign of that is retail and residential developments such as shopping malls, as Quartz has previously reported. Hahn and Hartung's work explores another change: as people become more prosperous, they need or perceive a need for more security.
"You have a huge difference between rich and poor.  This, of course, generates criminality and violence," wrote Hahn in an email. "Also the police are very corrupt so most of the money spent on public security doesn't end up where it should."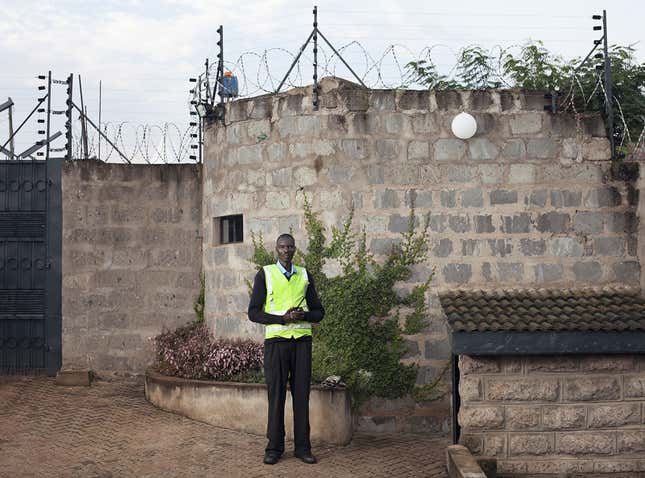 "Usually in Nairobi everyone that can afford it will have security. It is not something just for the upper class," wrote Hahn. "Clearly you need certain income to pay for security, but a lot of people live in bigger estates and share the costs for security between several families. I think it is important for our story because part of belonging to the middle class is accumulating belongings you don't necessarily need, and this makes you more prone to being robbed. Or at least gives you the impression that you need to protect yourself from people who have less. In Europe people belonging to the middle class don't need that much protection because the biggest part of society belongs to the middle class."
As incomes rise, Western clothing and style along with the cookie-cutter shapes of suburban housing have also become more prominent in Kenya. Hahn and Hartung's photo "Ayanda and Anele," an image of a set of young twin girls, is a particularly strong example. The photographers found the girls by their home in a gated community. "First I couldn't believe my eyes. There were these row houses in the background, and the twins were sitting there wearing exactly the same clothes playing with some rose petals. It looked a bit like a Stanley Kubrick movie," wrote Hartung.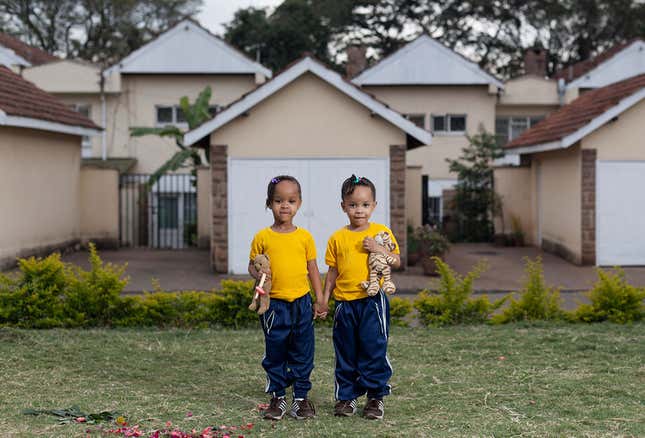 Hahn and Hartung's work also includes employees of a branding strategy agency, a magazine editor, a visual artist, a restaurant owner, and an interior designer.  The photographers are trying to exhibit the photos in Nairobi. Hahn believes the project is important for Africans to see and could be an inspiration.  "It is important to see that there are people doing cool things and living a good life out of their own effort." He's eager to show the exhibit in other parts of the world as well. "I think with this project we can make the people who see it rethink their image of Africa or Kenya."