While some of us are thrilled at the idea of the Winkelvoss twins departing this earth for a few hours, we have to ask what it will it cost them.
The internet entrepreneurs best known for legal tussles with Facebook's Mark Zuckerberg have purchased tickets to be space tourists on Virgin Galactic's SpaceShipTwo. And they purchased them with bitcoin, according to their melodramatic announcement.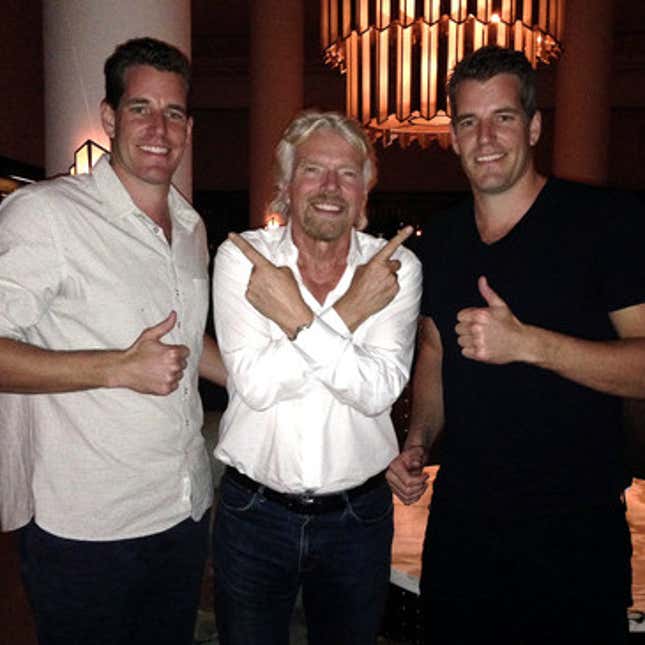 The tickets cost $250,000 (up front, please, according to Virgin Galactic's booking page). CEO Richard Branson, who had the company begin accepting bitcoin in November, presumably takes that up front, too. If you go by today's average conversion rate, the two tickets are about 716 bitcoins. The early-adopting Winkelvii at one time claimed to own 1% of the cryptocurrency, perhaps 100,000 bitcoins.
But the SpaceShip Two still hasn't actually been to space yet, and there are still months of test flights ahead. Branson still aims to begin commercial service this year, but he's said that every year since 2007. Were the Winkelvii buying that expensive trip with dollars, they'd have no problem putting up the cash today—hanging on to it would only lead to a slight drop in value as inflation did its thing.
But bitcoins are a speculative commodity, and any transaction you make with them is also a bet with the market. Let's say, generously, the Winkelvii take their trip six months from now, in September. Six months ago, a bitcoin cost perhaps $150, today it costs $663, and in between it got as high as $1,200—that's some volatility. When the plane takes off, those $500,000 tickets could be free—or, say, $860,000.
The Winkelvii's announcement post compares the modern-day builders of bitcoin and rocketships to the European discovery of America and the architecture of the post-World War II financial system. So what does their transaction tell us? After the latest crises in the bitcoin ecosystem, a cynic wouldn't be blamed for seeing a nice attempt to short the currency via a spaceship put, in the event of further collapses in value. An optimist might see generosity in the twins' investment in the potentially revolutionary space tech.
The SpaceShip Two, while it technically crosses the border to space by soaring above the 100km high Karman Line, can't fly high enough to reach even low earth orbit, where the International Space Station resides, or the higher orbits occupied by geosynchronous satellites, much less the moon or Mars. A third-generation Virgin Galactic ship—or a spacecraft made by competitors like SpaceX or Boeing—will have to realize those goals.
Similarly, bitcoin may just be the first step in the launching of the future of finance.