AC Milan has played a key role in both the history of Italian soccer, and its tumultuous politics.
The club has won European club soccer's top prize seven times—more than any other Italian team, and second only to Spain's Real Madrid. But perhaps as important, it counts Silvio Berlusconi as its president and owner. The "rossoneri" (red and blacks) formed an important part of the disgraced former Italian prime minister 's political identity and helped him rise to prominence on the national stage.
Now, with his political career in ruins, and the club languishing in 10th place in the Italian Serie A, Berlusconi is apparently exploring a sale of his beloved team, Bloomberg reported, citing sources. Fininvest, Berlusconi's holding company, has emphatically denied the Bloomberg report, which claimed that the investment bank Lazard has circulated sale documents to potential buyers.
Although he is under house arrest, Berlusconi's wealth soared by $1.5 billion last year.  He's not exactly strapped for cash. And his daughter was appointed co-CEO of AC Milan in December.
At any rate, AC Milan is the world's eighth-richest club by revenue, according to Deloitte. But it could lose as much as €51.4 million in revenue if it does not finish in the top four places this season, in which case it would not qualify for the next edition of the lucrative UEFA Champions League tournament.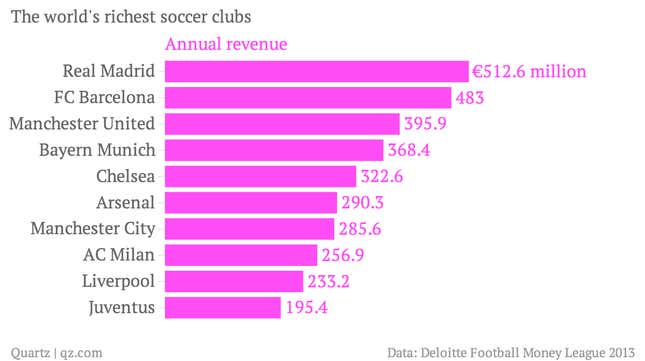 An AC Milan sale, which is by no means a certainty, would mean that five of the world's 10 richest clubs in Europe have been sold in the past decade (including Manchester United's IPO.)
The most recent was Liverpool in 2010, bought by the owners of the Boston Red Sox basball team for about $500 million. The English club was similarly stuck in the doldrums back then, but it's currently enjoying its best season in years. New owners can sometimes be a blessing. AC Milan fans can only hope.