From "Zoom happy hours" to "Zoom hangovers" to "Zoom dates," a new brand has entered the cultural lexicon.
As billions of people were confined to their homes earlier this year, Zoom stood out because it was easy to use and everyone knew someone who used it. Unlike Skype or Facetime or WhatsApp or numerous other platforms that offer video calls, you didn't have to sign up for an account, download an app, or own a particular device to use Zoom. Joining a call was as easy as clicking on a link. The platform's timely decision to lift the 40-minute minute meeting limit for schools around the world further expanded its reach. Just as many US doctors shifted to telehealth appointments, the service, which was also compliant with US healthcare privacy regulations, became an attractive option.
But while Zoom may be well-situated to be the reigning video chat platform of the pandemic, it's not the only option and it's not right for everything.

Meetings and work
Zoom's security pitfalls are well-known, and the high frequency of "Zoombombing" incidents have led to the popular platform being banned by NASA, Google, numerous schools, and governments. (The company is trying to beef up security with its acquisition of Keybase, an encrypted messaging platform). Meanwhile, tech giants from Microsoft to Google to Cisco are "Zoomifying" their existing chat platforms.
Cisco's Webex, which drew a record 324 million users in March, lifted time limits on its free plan. Google renamed Google Hangouts Meet to Google Meet, and extended free access to meetings of up to 250 people for G Suite customers until September. Microsoft upped its participant limit for Microsoft Teams, a kind of Slack/Zoom hybrid, from 100 people to 250. All three platforms allow users to turn on virtual backgrounds to disguise their environments, a feature people commonly associate with Zoom.
There's also a long list of alternatives to Big Tech videoconferencing solutions, such as 8×8, TrueConf, AnyMeeting, and more. For workplaces and large groups looking for a free option, Jitsi Meet, a free, open-source videoconferencing platform, has become an attractive alternative.

Socializing and beyond
In many parts of the world, the pandemic has caused nearly all aspects of  life to become virtual—from 5,000-person concerts, yoga classes, and Sunday church services; to intimate therapist appointments and dates.
In turn, livestream and video platforms designed for everything from working out to concerts to education have cropped up to meet this demand. As The Atlantic noted, not all social interaction lends itself perfectly to Zoom. Videoconferencing, where people appear in stacked boxes and normally speak one at a time, isn't always the perfect fit for more spontaneous, informal interactions.  As companies find alternatives to Zoom, it's likely your social calendar will too.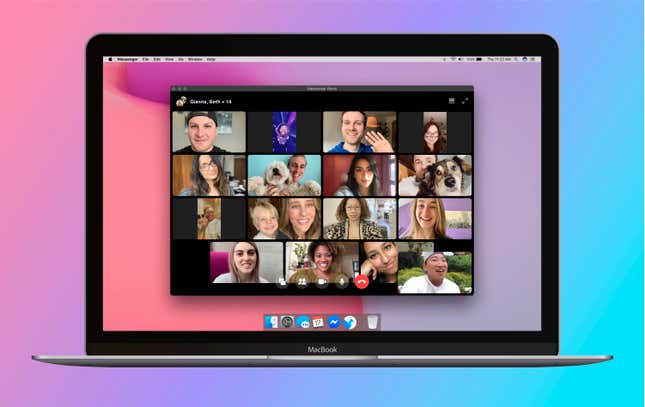 A video call on Facebook Messenger Rooms
Before the pandemic, a FaceTime session with a friend studying abroad or a Skype call with a relative from out-of-town may have been common. Thanks to the pandemic, virtual hangout sessions with more than a few social circles have become a way of life. Instead of calling a single friend to catch up, you may want to host a virtual brunch or a virtual pub night with your running group.
Social messaging apps, from Facebook Messenger to Houseparty to Snapchat to Whatsapp, have all primed their group video call offerings to meet the increased demand. Whatsapp, for example, has increased its maximum size for group video calls from four to eight. Facebook's launch of Messenger Rooms, which allows group video calls of up to 50 people, seems the perfect fit for events that are more personal than a Zoom session but bigger than a videochat call with a couple of your closest friends. All four apps allow users to play games and use emoji. Snapchat, Messenger, and Whatsapp incorporate augmented filters (ranging from hats, funky glasses, to dinosaur heads) which can both break the ice and inject some fun in an otherwise stiff video call.
Online Town, a free video-chat tool that lets groups gather in quirky simulations of actual rooms and break out into one-to-one discussions if they desire, seems to mimic an actual party. Houseparty, a social video app that has seen a renewal of interest in the wake of the pandemic, captures a dose of spontaneity that Zoom and other scheduled interactions may not have. Users can chat with friends who are online one-on-one, or create rooms with friends that anyone can enter.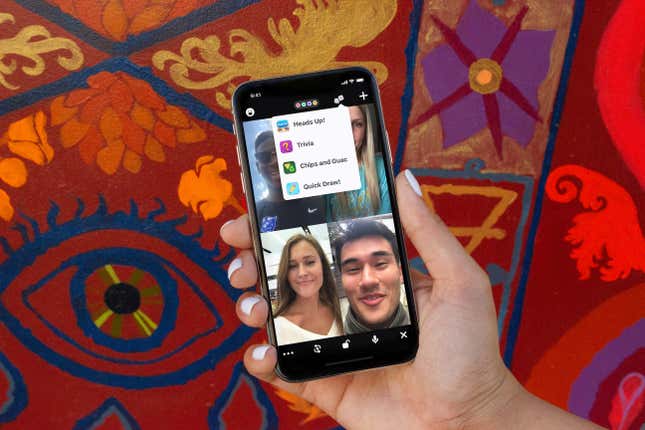 A group of four gather to play games on House Party.
Gamers were streaming video and videochatting long before the pandemic. The platforms they frequent, like Discord and Twitch, are now seeing users from all walks of life. Musicians from Diplo to Willie Nelson are hosting virtual concerts on Twitch. Discord, a chat platform commonly used for video games, is now being used for everything from watching movies as a group to trivia nights.
Jackbox Games, meanwhile, lets users play multiplayer board games remotely.
While Zoom may seem headed to become the Facebook or Google of videoconferencing, the future will likely be a lot more varied. As Zoom's security woes escalate, more schools and companies could drop off. And when major videoconferencing platforms end their free trial periods, we'll likely see some change in usage as well.
People may start relying more on social chat apps, or free, open-source platforms like Jitsi. Companies that already work with G Suite or use Microsoft Office may find it easier to stick to the same companies for videoconferencing. Fitness instructors may choose to train their clients with a platform that allows them to track metrics, like Virtuagym or Trainerize. Live events and concerts may find it easier to expand their reach by streaming on multiple platforms, like Instagram Live or Twitch. Instead of one platform like Zoom serving all needs, we're likely looking at a future where multiple platforms will take part in creating a fully immersive virtual world.